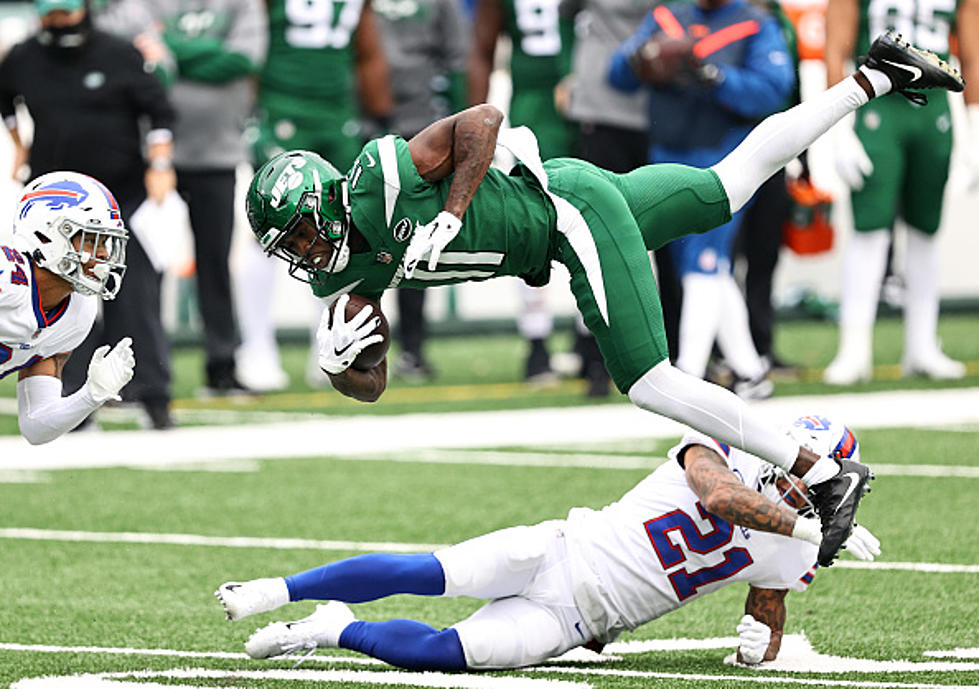 All The Bills Players Who Won't Play Today Against The Jets [LIST]
Getty Images
The Buffalo Bills will play their second-straight road game at 1 pm today. They play at the New York Jets at MetLife Stadium, in what is the first matchup between the two teams this season.
The Jets are near the bottom of nearly every major offense and defense stat line, and they will be starting quarterback Mike White, who is making just his third-career start this afternoon.
However, the Bills are coming off their worst loss in a long time, 9-6 against the Jacksonville Jaguars, and they will also be without some key players on defense.
It was announced on Friday that starting linebacker Tremaine Edmunds will miss today's game with a hamstring injury. Rotating defensive tackle Justin Zimmer was placed on season ending injured reserve after knee surgery on a torn ACL.
Now, starting defensive tackle Star Lotulelei will be out today after he was placed on the Reserve/COVID-19 list.
Here is the complete list of inactives for the Bills today against the New York Jets.
Defensive tackle Brandin Bryant was elevated from the practice squad for today's game, after the Lotulelei news.
Zimmer and Lotulelei do not appear on the list of inactives, because they are on reserve lists. Cam Lewis and Jamil Douglas round out the list of players who will sit today for the Bills.
Defensive ends Boogie Basham and Efe Obada will likely see more reps on defense as well. Basham is able to help inside because of his size, rather than players such as A.J. Epenesa and Jerry Hughes, who are pure speed rushers.
The Bills-Jets kickoff is at 1 pm.
10 Super Long Lines That Buffalonians Wait In
Buffalo waits a long time in these lines.
10 Super Long Lines That Buffalonians Wait In
Buffalo waits a long time in these lines.
15 Awesome Buffalo Restaurants For Comfort Food
Check out some of the best places for comfort food in Western New York.
The Top 40 Pizza Places in Western New York
The best pizza spots in Buffalo!