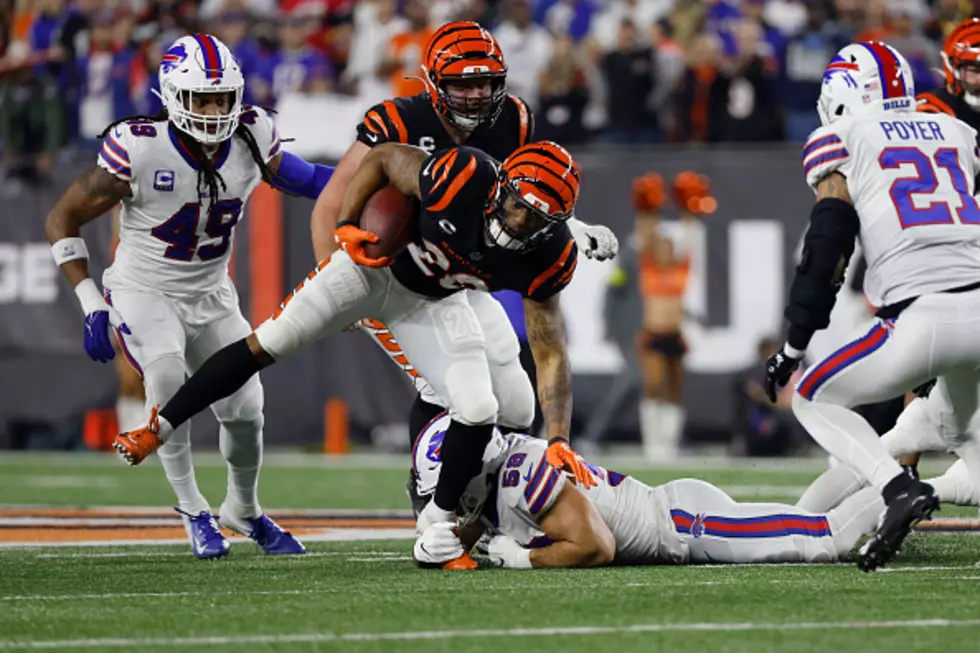 Bengals Rule Out Two Important Offensive Players Against Buffalo
Getty Images
The Buffalo Bills host the Cincinnati Bengals this Sunday at Highmark Stadium. It's the first ever matchup between Josh Allen and Joe Burrow, since their Monday Night Football game on January 2nd was cancelled due to the Damar Hamlin medical event.
This is the first divisional round home game since the win over the Baltimore Ravens in January of 2021.
The Bills are currently five-point favorites, but if you have paid attention to the national TV and radio programs, the Bills seem like the underdog. Many people are taking the Bengals in this game, but they have a real problem along the offensive line.
On Friday, Bengals head coach Tac Taylor ruled out starting left tackle Jonah Williams and starting guard Alex Cappa. They also won't have starting right tackle La'el Collins, who was lost for the season in late December, due to a knee injury.
This means three of the five regular starters along the Bengals offensive line won't play against the Bills. If you watched the Ravens-Bengals Wild Card round game last weekend, the Bengals had a hard time on offense after Williams went down.
They only had one successful drive in the second half against the Baltimore defense, whereas the Bills did move the ball against Miami, but the turnovers was their downfall.
The Bills are much healthier, as head coach Sean McDermott did not rule out anyone on Friday. Defensive tackles Jordan Phillips and DaQuan Jones were both limited in practice on Thursday.
For the Bills to win, they have to win the battle against the extremely banged up Bengals offensive line. Greg Rousseau, Shaq Lawson, Boogie Basham, A.J. Epenesa, Ed Oliver, Tremaine Edmunds and Matt Milano hold the key to a Bills victory.
15 Things You Should Never Do at a Bills Home Game
Things that are a no-no to do at a Buffalo Bills home game.
Complete List Of Buffalo Bills Available On Cameo
15 Hilarious Buffalo-Themed Coffee Mugs For Bills Fans And More
In honor of National Coffee Day, here are fifteen sweet mugs to hold your hot cup of joe while proclaiming your love for Bufflalo.