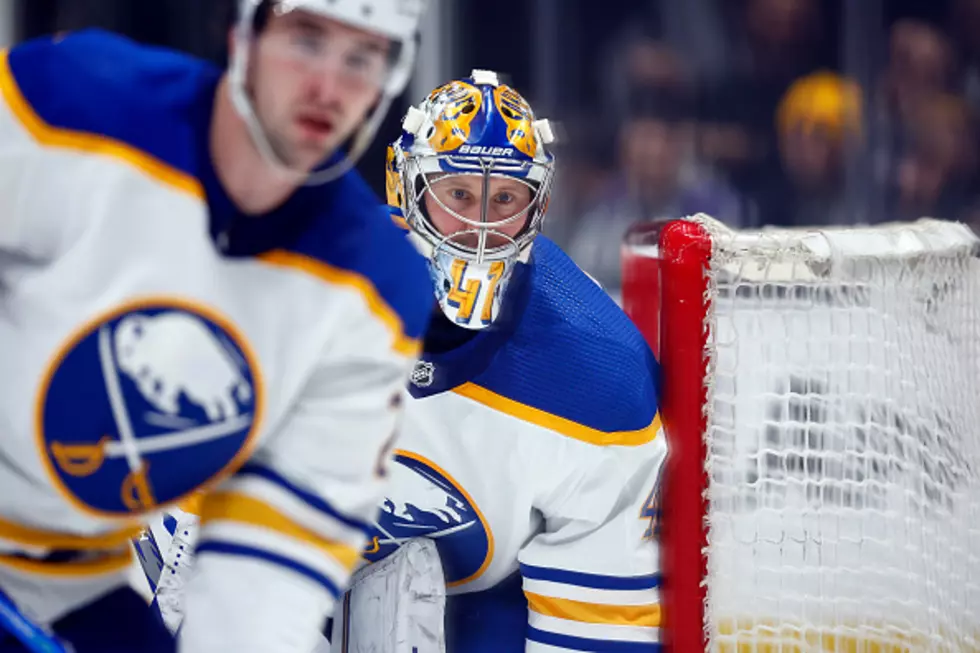 Here's When the Buffalo Sabres Should Get Goalie Help
Getty Images
All of a sudden, the Buffalo Sabres playoff chances have decreased in the minds of fans.
The Sabres dropped their third straight game, losing at the Los Angeles Kings. It's the first game on the west coast road trip that the Sabres are currently on and the standings do not look as promising as they did two weeks ago.
The Sabres are now five points out of a playoff spot, with three games in hand on the Washington Capitals, who occupy the first wild card spot. If the Sabres can win those three games in hand, they would be tied with Washington in points. They also have the Pittsburgh Penguins, New York Islanders and Florida Panthers all ahead of them in the playoff race.
While the scoring has been there for most of the season, the goaltending continues to be a major flaw with the roster.
Craig Anderson was not good last night in his return to game action. Eric Comrie has been injured and not impressive when called upon, while Ukko-Pekka Luukkonen hasn't had a great season. He's had games where he's looked the part, but far too many where he's let in bad goals.
The light at the end of the tunnel is Northeastern University goaltender, Devon Levi.
Levi was traded to the Sabres in the summer of 2021, as part of the Sam Reinhart trade. Levi was a 7th round pick in 2020 but after he was drafted, that's when he exploded into the best goalie prospect in hockey.
Levi has an unreal season in 2021-2022 and while he's come back to earth a little in 2022-2023, his numbers are still fantastic and he was just named the MVP of the annual Beanpot Tournament. Northeastern won the tournament on Monday night.
The Sabres are allowed to sign Levi to a professional contract when his college season is through, which should be anywhere between March 23rd and April 8th, when the NCAA Tournament is underway.
Buffalo would have three or four games left in the season, worst case scenario, when Levi would be signed. You might think he goes right to the Rochester Amerks, which he will at some point, but if the Sabres are God-forbid out of the playoff race by then, might as well throw Levi in for a few games to get him a taste of the NHL.
Levi absolutely has to be signed as soon as his college season is over. General manager Kevyn Adams was recently on a podcast with Darren Dreger, and he alluded to the fact they would like to get that done soon.
Devon Levi is the real deal and should be the big missing piece for a Sabres roster who is almost ready to be a true contender.
Buffalo Sabres Goalie Masks
Top 10 Most Underrated Buffalo Sabres of All-Time
22 Famous Buffalo Sports Phrases Every Die-Hard Bills and Sabres Fan Knows
Being a sports fan in Buffalo is sometimes like knowing a different language. Here are 22 of our favorite Buffalo sports phrases you already know if you're a huge fan! And if you're new here, here's how to catch up.