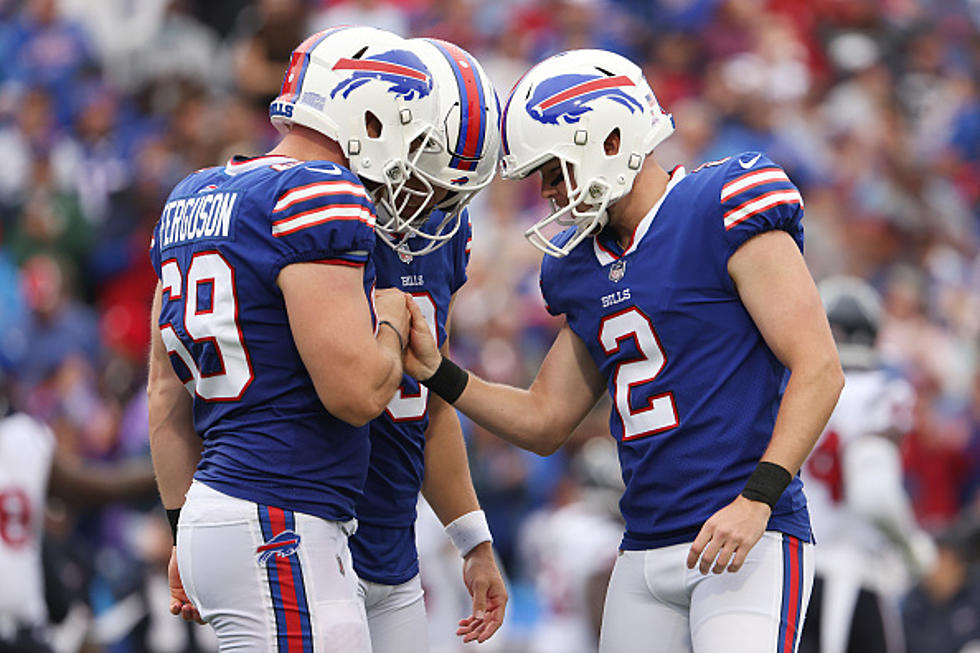 Here Are The Bills' Odds For The Thanksgiving Game
Getty Images
One team in Highmark Stadium hit a franchise-record on Sunday, though it wasn't the team we were hoping for. However, this week looks promising for the Bills. 
It just seemed like one of those days where nothing seemed to be working for our Buffalo Bills -- not to mention, it was slippery. 
Jonathan Taylor for the Indianapolis Colts scored a franchise-record of five touchdowns in the win over Buffalo, and Taylor really caused trouble for the Buffalo Bills. The Bills struggled to adjust throughout the game and were unable to stop the Colts, but really, the game came down to those small, critical moments that happened so fast, you may have missed it (or at least, you may have wondered if it really happened). 
Perhaps the biggest turning point of the Bills vs. Colts game was when Isaiah McKenzie fumbled the kickoff after Michael Badgley's field goal without even being hit. It was a slippery day though, so it looked like McKenzie lost his balance, hit the ground, and the football zipped out of his grasp. The Colts recovered the ball, and one play later, Jonathan Taylor picked up a touchdown. 
If you can brave it, here's the playback.
It was a rough game, and the NFL recognized that in the Week 11 team rankings, when they gave the Colts an "A+" grade for the huge upset against the Bills, and the Bills received an "F." You can take a look at that here. 
The Bills are back in action on Thanksgiving to take on the New Orleans Saints, with kickoff at 8:20 pm. The Saints received a "D" grade for Week 11, also coming off a loss from the Philadelphia Eagles. 
In an early pick, Bills are the favorite by 4.5 points. The game prediction shows the Bills making those necessary adjustments to stop the Saints' offense and spark their own offensive attack. The Bills may have been shaky against the Colts, but they still have one of the best defenses in the NFL, and you cannot deny that they are the favorite going into the Thanksgiving matchup.
Bills Drop To 2nd Place In AFC East After Brutal Loss To Colts [PHOTOS]
The Bills were embarrassed by the Indianapolis Colts at home on Sunday.
5 Buffalo Bills Themed Beers For Your Tailgate
These are 5 brews you will want for your next Bills tailgate.
Vintage Buffalo Bills Gear For Sale
The Buffalo Bills Brick, Starter Jacket and Director's Chair you can buy, but you will pay much more than you probably did in the 1980s and 1990s.