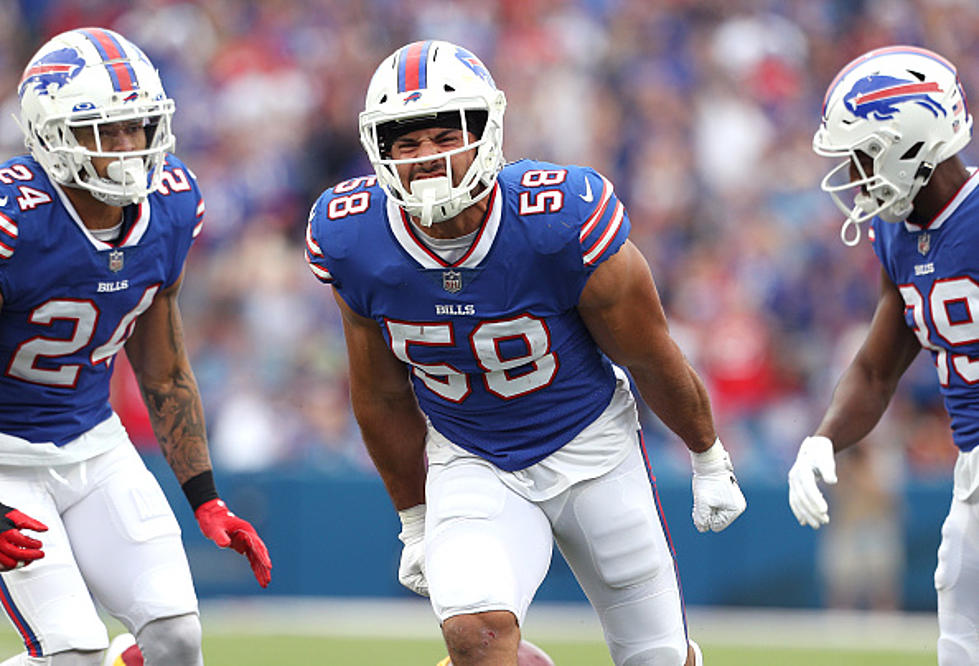 Important Buffalo Bills Players Who Are Dealing With Injuries
Getty Images
The Buffalo Bills face their toughest test of thee 2021 season this Sunday night, when they go on the road at the Kansas City Chiefs. In fact, this is most likely the toughest game the Bills will have all season.
When you go up against Patrick Mahomes, who is regarded as the best quarterback in the NFL, it's important to have a healthy roster and unfortunately that is not the case for the Bills.
Three Bills players did not practice on Wednesday:
Matt Milano (LB)
Greg Rousseau (DE)
Taiwan Jones (RB)
The Bills also listed wide receiver Cole Beasley and defensive end Mario Addison as not practicing on Wednesday, but both of those were veteran rest days.
Spencer Brown, Jon Feliciano, Dane Jackson, Jordan Poyer and Tre'Davious White were limited on Wednesday. Poyer and Feliciano did not play against the Houston Texans this past Sunday.
Milano and Poyer are extremely important for the Bills chances to limit the Chiefs offense this week. If one or both cannot go, that would be a big blow to the defense. Poyer and Milano would help cover all-pro tight end, Travis Kelce, who has burned the Bills before.
It remains to be seen what the Bills do with wide receiver Tyreek Hill, who is one of the most dangerous players in the NFL. They will likely have coverage over top, so they don't get beat deep, but playing Mahomes in a zone defense has not proven effective in the past when teams have tried to do that.
Man-on-man is also risky, due to Hill and Mecole Hardman's speed, so perhaps the Bills try a mix of both on Sunday night.
Having a full lineup on defense would help tremendously. We should know much more about Milano and Poyer's playing status by Friday.
22 Famous Buffalo Sports Phrases Every Die-Hard Bills and Sabres Fan Knows
Being a sports fan in Buffalo is sometimes like knowing a different language. Here are 22 of our favorite Buffalo sports phrases you already know if you're a huge fan! And if you're new here, here's how to catch up.
16 Buffalo Bills With Some Of The Best And Worst Nicknames
15 Things You Should Never Do at a Bills Home Game
Things that are a no-no to do at a Buffalo Bills home game.
The 25 Worst Street Names In Buffalo, New York