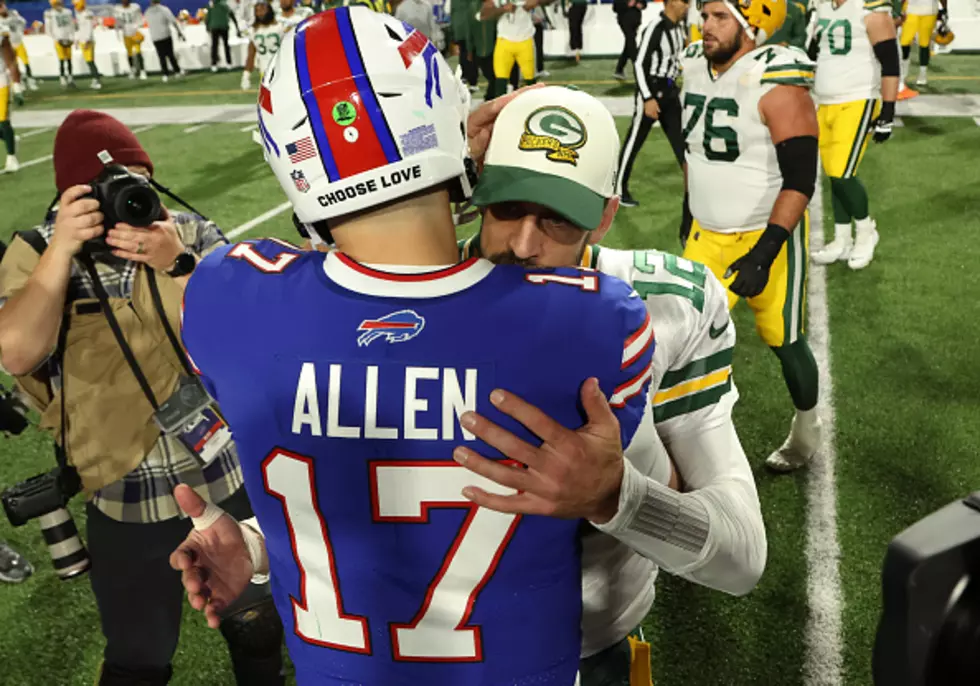 Josh Allen and Aaron Rodgers Share a "Bromance" Moment
Getty Images
This past weekend felt weird for football fans.
For the first time since July, we had no NFL games or college games. It was the weekend before the Super Bowl, although we did have the Pro Bowl games taking place in Las Vegas.
Both Buffalo Bills quarterback Josh Allen and Green Bay Packers quarterback Aaron Rodgers could have gone to the Pro Bowl games, but both backed out to rest and play in the Pebble Beach Pro Am.
The Pro Am pairs professional golfers and celebrities (including other pro athletes) in a tournament.
Rodgers ended up winning the tournament with his partner Ben Silverman, although Allen and his partner Keith Mitchell were in contention for most of the weekend.
Rodgers and Allen shared a bromance moment, where Rodgers said to Allen, "God, you're a good looking man."
Allen went in for a handshake, while Rodgers wanted the full-blown hug. It's amazing...in the rain no less.
We know Allen will be the Bills quarterback for the foreseeable future, but Rodgers future with the Packers is in doubt.
He has not yet made a decision on whether to retire, return to the Packers or be traded elsewhere. He did say he won't be going to the San Francisco 49ers while at the Pro Am, but the New York Jets and Las Vegas Raiders rumors have been going strong on Twitter the last few days.
We will have to wait and see where Rodgers goes, and whether or not that ends up being in the AFC East and playing the Bills twice next season.
Complete List Of Buffalo Bills Available On Cameo
16 Buffalo Bills With Some Of The Best And Worst Nicknames
22 Famous Buffalo Sports Phrases Every Die-Hard Bills and Sabres Fan Knows
Being a sports fan in Buffalo is sometimes like knowing a different language. Here are 22 of our favorite Buffalo sports phrases you already know if you're a huge fan! And if you're new here, here's how to catch up.