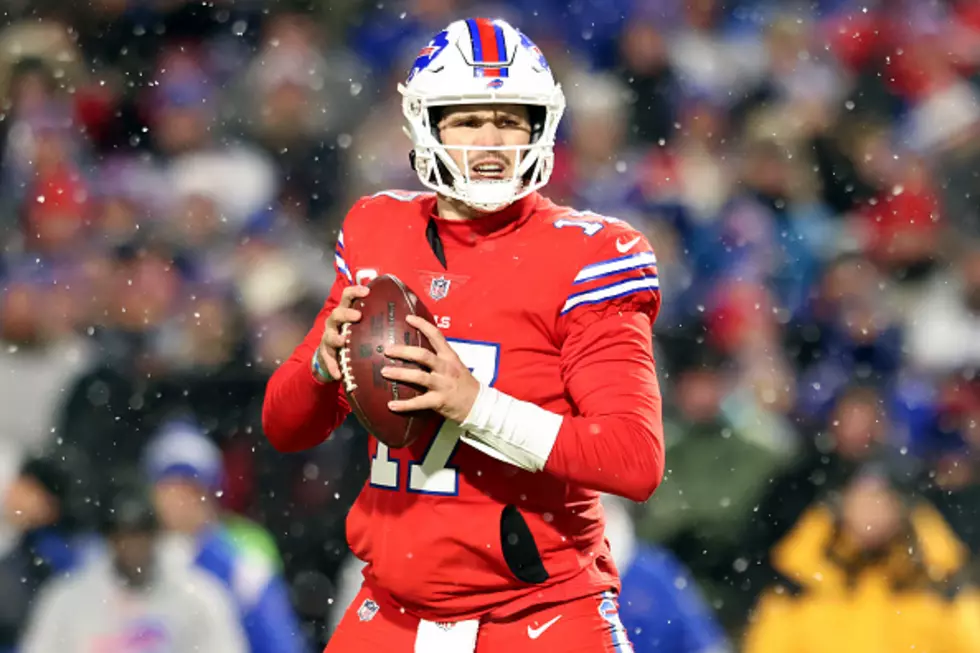 Fan Wore The Most Ridiculous Josh Allen Jersey at the Bills Game
Getty Images
The Buffalo Bills are still in first place in the AFC after their huge win over the Miami Dolphins from this past Saturday at Highmark Stadium.
The game didn't turn out to be the snowstorm event we thought it would be, due to a change in wind direction which cause the lake effect snow band to stay north most of the game, but it was still a very entertaining contest for the country to watch.
The Dolphins played well. They played well enough to win the game, but the best player for either team was Bills quarterback Josh Allen, who took Buffalo on his back. He was the reason the Bills pulled out a three-point victory.
Many Bills fans dealt with snow in the stands and the freezing cold temperatures. One Bills fan at Highmark stadium decided to wear a very interesting Josh Allen jersey.
We talk about Cardinal rules when it comes to sports jerseys, and I'm pretty sure wearing a hockey jersey, with a football player's name on it, constitutes as a no-no.
Check out what one fan wore. It's a Sabres slug jersey (2006-2010) with Allen's name and number on the back...
I don't even know what to say. The face warmer with the Bills red helmet design definitely completes the look.
I once saw a Gilbert Perreault Bills jersey at a Sabres game and it stuck with me. This one is even worse, because they picked the Sabres Buffaslug look, which may be why he picked it -- to be as ridiculous as possible.
Jerseys You Should Never Wear At A Buffalo Game
You should never be caught wearing these jerseys.
You Need All Of These Buffalo Bills Themed Ugly Christmas Sweaters
31 Things That People Who Love Christmas Do In WNY Every Year