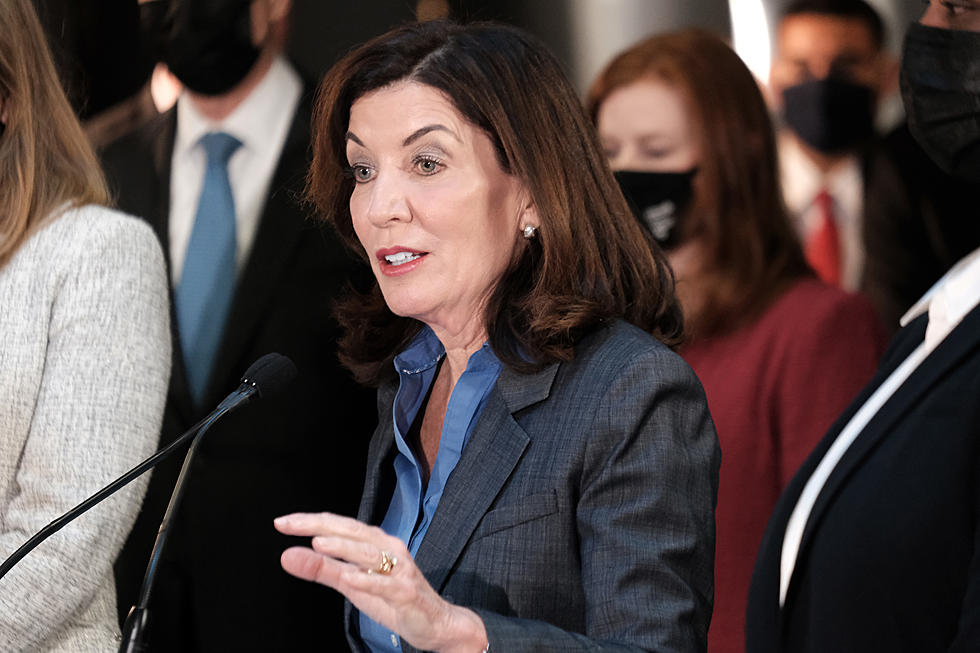 Stringent Mask Mandate Officially Ending In New York State
Getty Images
Last night reports came out that Governor Kathy Hochul was going to end the mask mandate in New York State.  Today the announcement was made.
It's something that has been in effect for months now (since December 10th) but it was going to expire on Thursday anyway.  Would New York State continue with a mask mandate or would it end?  On Tuesday night, the New York Times reported that Hochul was going to end it.
Today, after looking at the numbers, she made the announcement that she was going to look at the next phase. She started with a brief history of what has happened since last November, through the enormous peak we saw with a positivity rate of almost 23%.
The mandate that was in effect gave business owners the option to ask customers for proof of full vaccination or require mask wearing at all times.  It's something that was obviously causing conflict not only between consumers and business owners but also between friends and neighbors.
So what's the next plan
The mandate has been lifted for indoor businesses.  Counties, cities and businesses can still choose to require masks.  The mandate will be lifted effective 2/10/22.
The numbers are coming down and as Hochul says, "it is time to adapt."
Erie County Executive Mark Poloncarz has already announced that if New York State chooses to lift their mandate, Erie County will also lift theirs.
They will still have measures in place to help support our most vulnerable like nursing homes and schools.  They hope to increase vaccines & booster doses and to strengthen our health care system.  Hochul added that the most recent spike exposed some vulnerabilities of our current system.  They will continue to distribute testing kits and masks.
Where will you still be required to wear a mask?
State Regulated Health Care Settings
State-Regulated Adult Care Facilties & Nursing Homes
Correctional Facilities
Schools & Childcare centers
Homeless Shelters
Domestic Violence Shelters
Buses & Bus Stations, Trains & Train Stations, Subways & Subway Statinos, Planes & Airports
What are the numbers right now?
As it is right now, case numbers are still very high but are dropping dramatically.   There have been 28% fewer people hospitalized in the last two weeks, but we have also already seen almost 1500 people who were infected with coronavirus die in New York State in that same amount of time.
Overall cases are down, the positivity rate is down, the number of total hospitalizations is down, the number of cases per 100,000 is down, new hospital admissions are down.  It's all good news.
Many states have already dropped their mask mandates.  To see that list click here.
Hochul still encourages people to get their vaccination or their booster shots if they haven't already to help to control the spread. New York State is leading the largest states with their vaccination status.
Answers to 25 common COVID-19 vaccine questions
Vaccinations for COVID-19 began being administered in the U.S. on Dec. 14, 2020. The quick rollout came a little more than a year after the virus was first identified in November 2019. The impressive speed with which vaccines were developed has also left a lot of people with a lot of questions. The questions range from the practical—how will I get vaccinated?—to the scientific—how do these vaccines even work?
Keep reading to discover answers to 25 common COVID-19 vaccine questions.
6 WNY Places To Purchase An At-Home COVID Test
Here are 6 places in Western New York where you can purchase an at-home test for COVID-19.