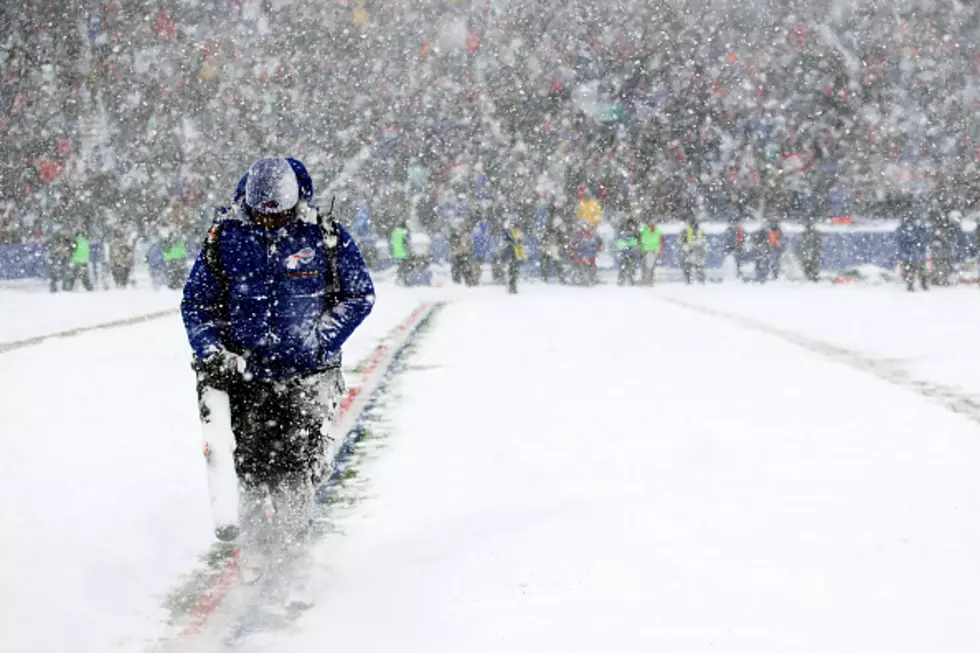 Dolphins Head Coach Makes Fun of the Buffalo Forecast
Getty Images
The Buffalo Bills are looking to clinch a playoff spot for a fourth straight season on Saturday, when they host their AFC East division rival, the Miami Dolphins.
This prime time game will be the second meeting between the two teams this season. The first was a tough loss for Buffalo down in Miami back in week 3.
The Bills outgained the Dolphins by 280 total yards, but the Miami humidity played a huge role. Multiple Bills players went down with cramping and even heat exhaustion, with a heat index of 105 degrees. The Bills sideline was unshaded and didn't have cooling fans, while the Dolphins had a shaded sideline.
The forecast for Saturday is a polar opposite, quite literally.
Temperatures will be in the 20's with a wind chill possibly in the single digits and lake effect snow showers. We don't yet know if that lake effect snow band will be stationary over Orchard Park for the game but it's likely at least a few inches falls through the course of the evening and overnight.
The Dolphins went on a crusade to prove to the media the snow and cold isn't a big deal.
Miami quarterback Tua Tagovailoa told the media that he's thrown a football with his brother (who is a college quarterback) with snow on the ground, and that "it snows in Alabama guys..."
Miami head coach Mike McDaniel went so far as to say he's doing "zero monitoring" of the weather/forecast in Buffalo and that it's a mindset thing, which is what Tua told the media as well.
McDaniel in practice decided to have some fun with the Buffalo weather/forecast.
He cranked the AC up indoors for his Dolphins team and wore a T-shirt that says, "I wish it were colder."
We probably won't see a crazy weather game, but there will likely be enough snow and wind to throw a monkey wrench into passing game plans.
Be careful what you wish for.
Amazing Shirts Any Bills Fan Will Love As A Gift
Whatever your style - classic, retro, funny, or chic - these shirts that you can get on Etsy are way better than the basic Bills merch in the team store.
15 Things You Should Never Do at a Bills Home Game
Things that are a no-no to do at a Buffalo Bills home game.
22 Famous Buffalo Sports Phrases Every Die-Hard Bills and Sabres Fan Knows
Being a sports fan in Buffalo is sometimes like knowing a different language. Here are 22 of our favorite Buffalo sports phrases you already know if you're a huge fan! And if you're new here, here's how to catch up.