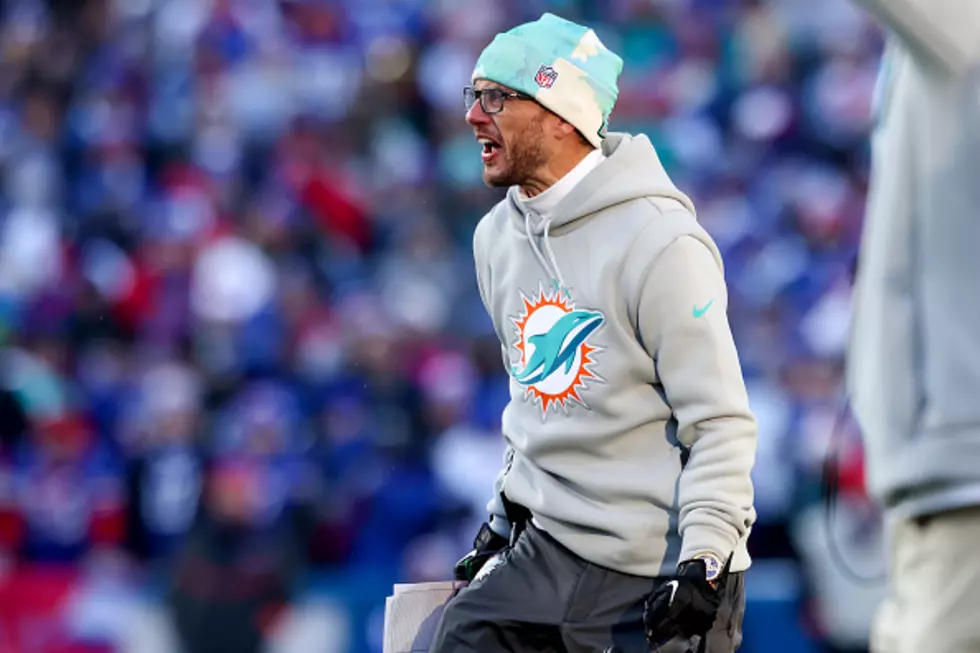 Dolphins Head Coach Caught Vaping on the Sideline in Buffalo?
Getty Images
The Buffalo Bills defeated the Miami Dolphins at Highmark Stadium on Sunday. It was the first game of Sunday during the NFL's Super Wild Card Weekend.
The Bills were favored by almost 14 points and while it appeared like it would be a blowout early on, the mistakes the Bills made let Miami back in the game and the Dolphins almost won the game altogether; despite their laundry list of key injuries, including to their top two quarterbacks.
The Bills 34-31 win was a nerve-wracking victory for the 70,000 Bills fans in the stadium but the Dolphins should get credit for capitalizing on Buffalo's mistakes and almost pulling out a win that nobody expected.
Dolphins head coach Mike McDaniel did a good job on Sunday but NFL fans on social media, along with media outlets, noticed that he was likely doing something we have never really seen an NFL head coach ever do.
It appears McDaniel was vaping on the sideline.
I don't believe there's any rule that states a coach cannot vape on the sideline, but it's just interesting because...we have never seen a coach do this before.
We don't know if McDaniel was vaping but based on some comments it looks like that's what this was.
I would have to assume smoking on the sideline is not allowed but vaping apparently is.
The Bills next play either the Cincinnati Bengals or the Jacksonville Jaguars in the AFC Divisional round, depending on who wins tonight's game between the Bengals and Baltimore Ravens.
If the Bengals win, Bills host Cincinnati. If the Ravens win, Buffalo hosts the Jaguars.
Buffalonians Would Hate To See Josh Allen Endorse These Companies
16 Buffalo Bills With Some Of The Best And Worst Nicknames
22 Famous Buffalo Sports Phrases Every Die-Hard Bills and Sabres Fan Knows
Being a sports fan in Buffalo is sometimes like knowing a different language. Here are 22 of our favorite Buffalo sports phrases you already know if you're a huge fan! And if you're new here, here's how to catch up.