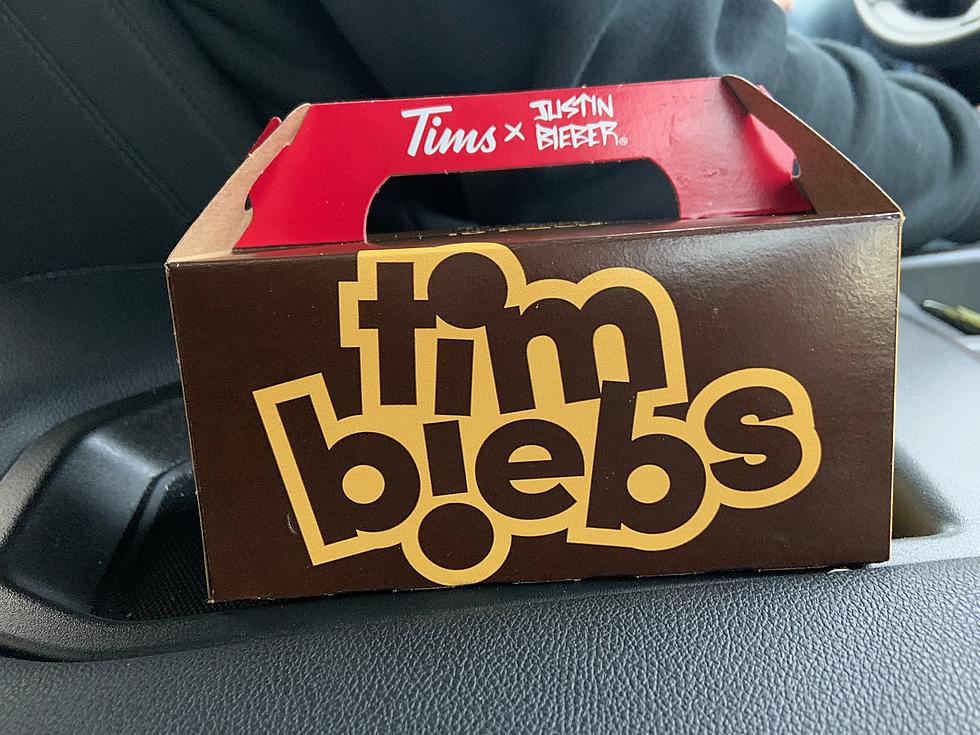 New Tim Horton's Box Going For Crazy Amount Of Money
Photo credit: Clay Moden
Last month Tim Horton's teamed up with one of the biggest celebrities on the plant to launch a new line of Timbits.
Tim Horton's partners up with Justin Bieber's to launch a new line of Timbits called Timbiebs after the Canadian singer.
Well, it looks like more than just Tim Horton's and Justin Biebers are trying to make some money off this new venture. I saw on Facebook that someone was posted a Timbiebs box for sale. The asking price is crazy.
The person was asking $500 for the empty box! Yes..$500 bucks.
The guy has listed the empty box on the Facebook marketplace and is asking for $500 or offers. You can see the listing HERE.
Now I am not sure that the new Timbiebs boxes are limited edition and if you order some of the Tim Biebs at Tim Horton's you get the box so this posting is super crazy to me!
The new line of Timbiebs was launched on Coming up on November 29th, the two brands will come together with the launch of a limited-edition selection of Timbiebs Timbits in Chocolate White Fudge, Sour Cream Chocolate Chip, and Birthday Cake Waffle flavors.
If you wondering why Justin Bieber would team up with Tim Horton's he said that he has always been a fan of the coffee shop since he was a little kid growing up in Canada.
"Doing a Tim Hortons collab has always been a dream of mine," said Justin. "I grew up on Tim Hortons and it's always been something close to my heart."
Tim Horton's is expected to start selling Justin Bieber-inspired merchandise later this year and in early 2022.
Check Out The Most Expensive Home For Sale In New York
Check out the most expensive home listed for sale on
Zillow
in New York State.
Rent The Grinch Cave
Need to grow your heart three sizes? Stay where the Grinch lived.
8 Amazing Places To Get Buffalo Theme Gifts
Looking for a Buffalo-inspired gift this holiday season? Check out these 8 amazing Buffalo-focused shops.