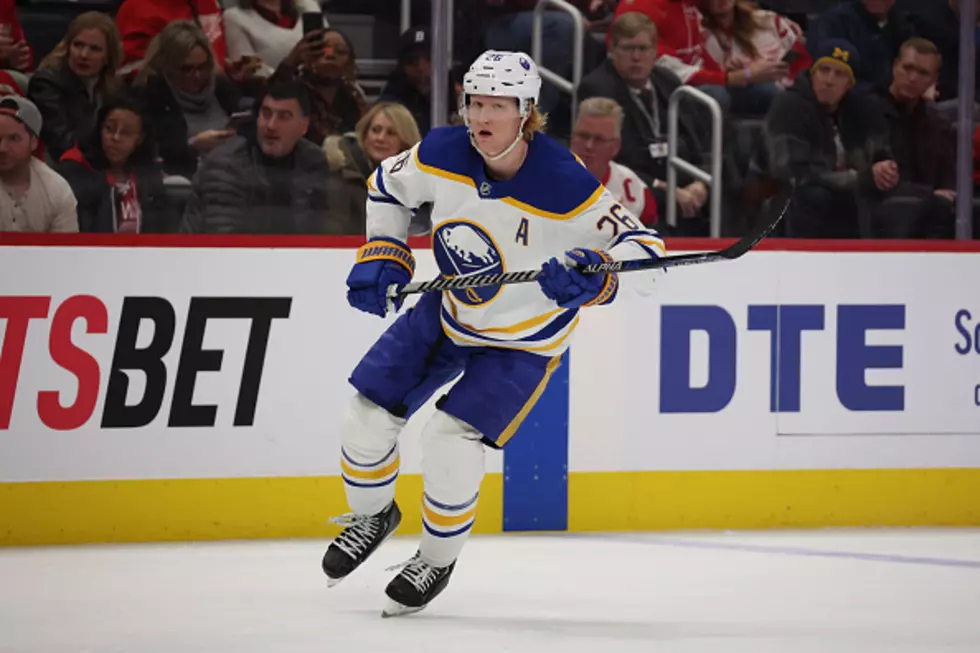 Rasmus Dahlin's Favorite Restaurant in Buffalo
Getty Images
The Buffalo Sabres have one game remaining before the NHL All-Star break, which will last 10 days.
The Sabres host the Carolina Hurricanes on Wednesday night, which will be their first home game in two weeks, after their very successful five-game road trip. Buffalo earned nine out of a possible 10 points and are just one point out of the final wild card playoff spot with 33 games left.
The Sabres are two points back of the Washington Capitals, who occupy the first wild card spot, but the Sabres have three games in hand on the Caps, which means they control their own playoff destiny.
Other than forward Tage Thompson, the biggest reason the Sabres are where they are is because of defenseman Rasmus Dahlin.
The 22-year-old defenseman has a good season in 2021-2022, but is seeing a breakthrough season in 2022-2023, becoming the generational defenseman that scouts thoughts he could be going into the 2018 NHL Draft.
Dahlin has 14 goals and 55 points in just 48 games, which are all career highs. Dahlin is on a nearly 100-point pace.
Dahlin and fellow number one overall pick, Owen Power (2021) were guests on Dhane Smith and Josh Byrne's podcast recently. Smith and Byrne are stars for the Buffalo Bandits.
The topic of favorite parts about living in Buffalo came up and Dahlin mentioned the food in Buffalo. Smith asked Dahlin what was his favorite place to go for food?
Dahlin said "Bacchus," which is a restaurant and wine bar located on W. Chippewa St. in Downtown Buffalo. The 30-minute mark.
Power said he likes to make food at home and dabbles in fast food, so we don't know yet where his favorite Buffalo restaurant is.
20 WNY Restaurants That Should Be Way More Famous
These Western New York restaurants should be way more famous around Buffalo.
25 Underrated WNY Restaurants You Need to Visit
So many hidden gems in Buffalo for food. Here are 25 places you should be visiting.
The Top 30 Beef on Weck Restaurants In WNY
The 30 best places for beef on weck in Western New York.