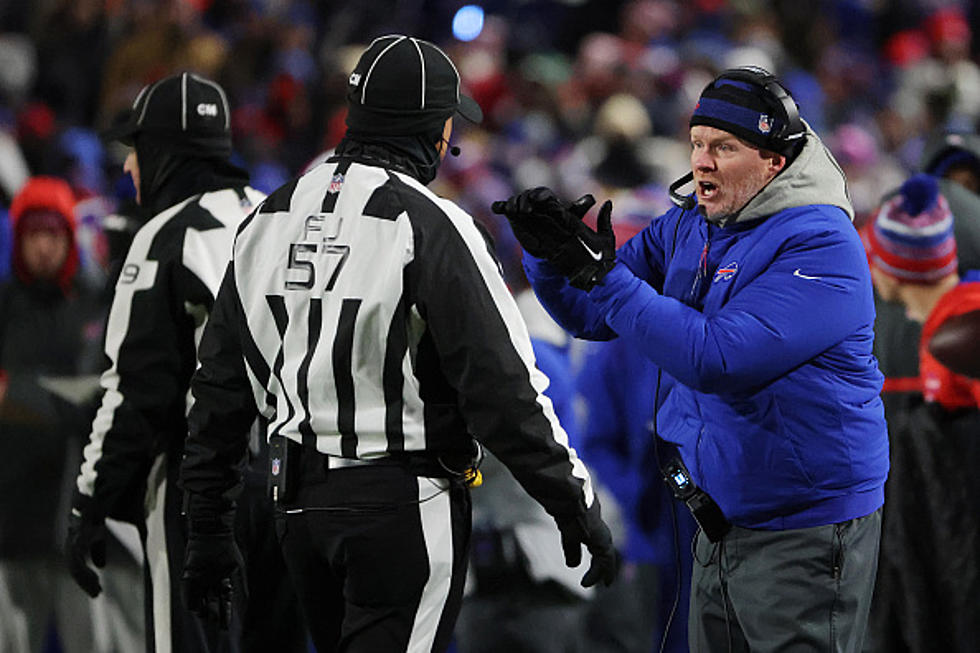 Sean McDermott Was Livid With The Refs During Monday Night Football
Getty Images
The Buffalo Bills and New England Patriots both had to deal with what were the windiest conditions for any NFL game this season, and the windiest game for either team in some time.
To say it was unlike a normal NFL game would be an understatement.
The Buffalo Bills lost to the New England Patriots by a score of 14-10, in a game that saw the Patriots attempt four passes. Yes, four passes the entire game.
The Bills were outcoached in every single facet of the game, other than QB play, since Josh Allen played well considering the conditions. Untimely penalties and questionable decisions, coupled with key Dawson Knox drops did them in,
During the second quarter, Bills head coach Sean McDermott was visibly upset with the referees over what appeared to be because the referees allowed New England to get a last second time out, after the Bills were called with a delay of game on a previous possession and were not allowed the time out.
McDermott was livid.
The Bills now go on the road to play at the Tampa Bay Buccaneers at 4:25 next Sunday. They will face guess who, Tom Brady with a high-powered offense led by the likes of Mike Evans, Chris Godwin, Rob Gronkowski and Leonard Fournette,
The Bills still are likely to make the playoffs at 7-5 and easy games ahead (Panthers, Falcons, Jets), but the AFC one-seed chances are all but gone and the division is slipping away.
Top 10 Running Back In Buffalo Bills History
As we get ready for another season of Buffalo Bills football, check out the Top 10 running backis in Bills history.
Top 10 Receivers In Buffalo Bills History
The Bills have had some amazing wideouts. Here are the Top 10 based on reception yards in Bills history.
16 Buffalo Bills With Some Of The Best And Worst Nicknames
The Top 40 Pizza Places in Western New York
The best pizza spots in Buffalo!
The 25 Perfect Fall Restaurants in Western New York
The best restaurants during the fall in Buffalo and Western New York.