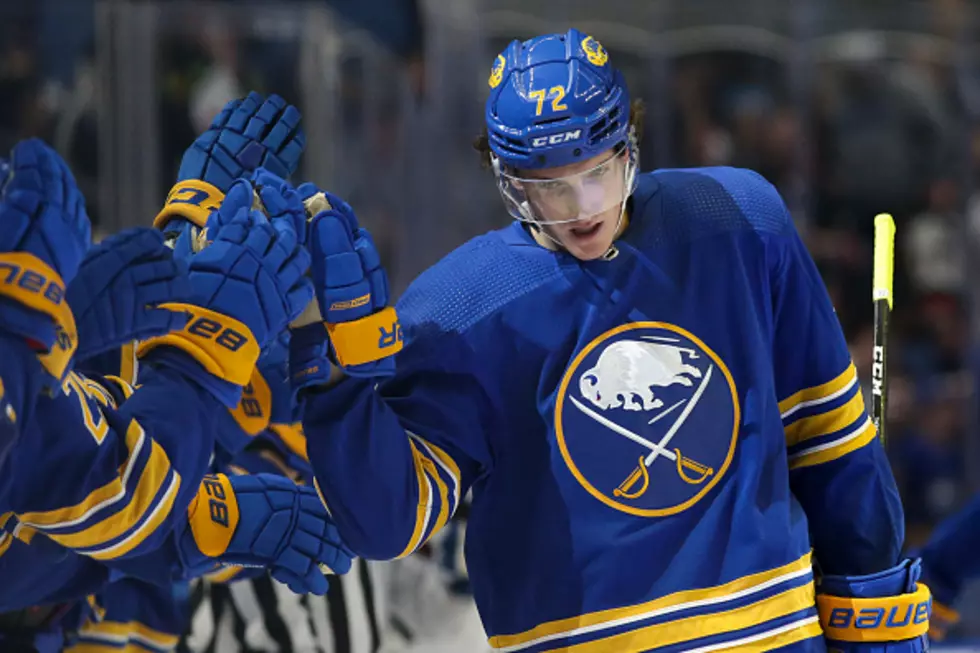 Tage Thompson's Instagram Post Makes Sabres Fans Laugh
Getty Images
The Buffalo Sabres are in the middle of their 10-day break, with the next game not being until this Saturday when the Calgary Flames visit KeyBank Center.
The Sabres are fighting for a wild card playoff spot and many fans in Western New York believe they will make it by mid-April.
The roster may be a year ahead of schedule, but the young nucleus of talent has embraced their larger roles.
Tage Thompson is on pace for more than 50 goals, while Rasmus Dahlin and Alex Tuch will come close to scoring 100 points.
Dylan Cozens is having a breakout season, scoring 17 goals in 49 games. He's on pace for 75 points and has become the Sabres number two star center.
On Tuesday, the Sabres rewarded Cozens with a new 7-year, $49.7 million contract extension, which locks Cozens in through the 2029-2030 season. It's almost identical to Thompson's contract extension from October, which was also for 7 years and just a shade under $50 million.
Thompson congratulated Cozens, while they were on vacation with an Instagram post.
This is the most likable Sabres team in years. Not only are they good and fun to watch, but they're very likable for the fans.
Rasmus Dahlin, Alex Tuch, Mattias Samuelsson, Tage Thompson, Dylan Cozens, JJ Peterka, Jack Quinn and more are so fun to root for.
The Sabres will likely be buyers before the March 3rd trade deadline. They could use an extra forward or defenseman, while a goalie may not be out of the question as well. We just have to wait and see.
Buffalo Sabres Captains Since 2000
Top 10 Most Underrated Buffalo Sabres of All-Time
22 Famous Buffalo Sports Phrases Every Die-Hard Bills and Sabres Fan Knows
Being a sports fan in Buffalo is sometimes like knowing a different language. Here are 22 of our favorite Buffalo sports phrases you already know if you're a huge fan! And if you're new here, here's how to catch up.