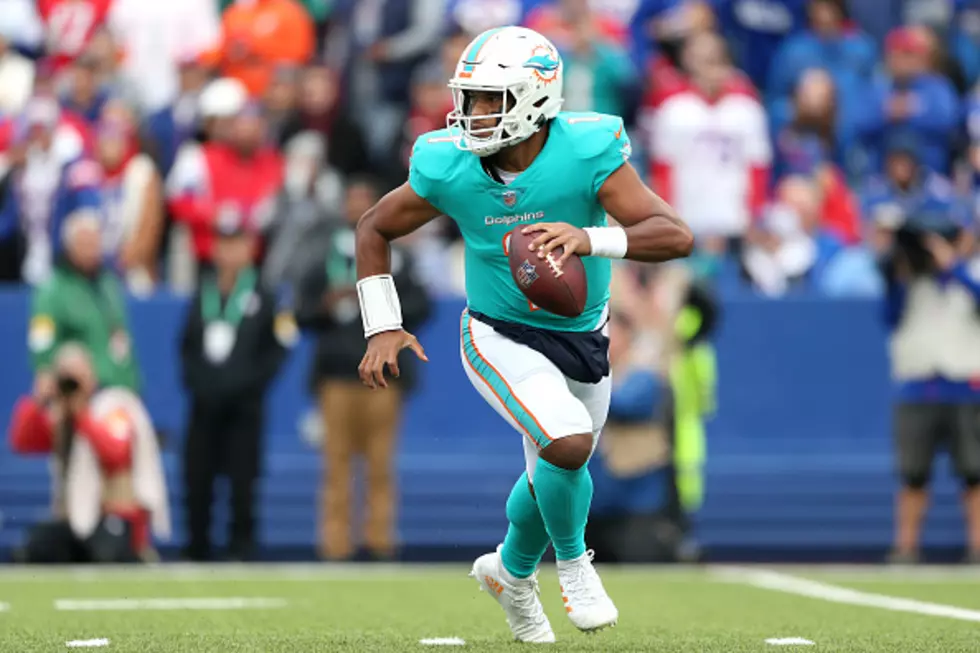 Bills May Get a Winter Weather Payback Game Against the Dolphins
Getty Images
The Buffalo Bills have only played two games against AFC East opponents so far this season, with the third coming at the New England Patriots on Thursday Night Football this week. Buffalo is 0-2 in their first two division games, despite having an 8-3 record.
What's crazy is the Bills have not played a home division game yet. That won't come until December 11th against the New York Jets, which could be a record for the latest first home division game ever for the Bills. The first three division games this season were all on the road.
The Miami Dolphins handed the Bills their first loss of the season in south Florida back in week 3.
You may remember that game because of how much the Bills dominated in time of possession and outplayed Miami, outgaining them by over 280 yards from scrimmage. However, the Bills lost and the intense heat played a factor.
Multiple players for the Bills on offense left that game due to cramping and heat illness. They were on the unshaded sideline and were forced to use their dark jerseys with the lack of cooling fans.
Many Bills fans argued it was an unfair advantage and while I think home teams are allowed to create a homefield advantage, the league should be careful of unsafe game conditions, which is the case in heat such as that.
The Dolphins visit the Bills in December. The game will be played either December 17th or 18th, as the NFL will decide on where to place that game but most agree it will be a night game on Saturday (The NFL Network) or Sunday (NBC). Both teams' records are why.
The Bills may have a winter weather payback game when Miami visits.
Long-range weather forecasts, such as The Weather Channel and AccuWeather, have a cold and snowy turn by the second week of December in Western New York.
Snow and colder temperatures are in the forecast from December 8-11 and while right now it's still too early to tell if we get snow for that Dolphins-Bills game, the game time temperatures should be in the 20's or low 30's.
Dolphins quarterback Tua Tagovailoa has limited experience playing in cold weather and almost no experience playing in snow; the same for wide receiver Jaylen Waddle.
The NFL knew what they were doing when they had the Bills play in Miami in September and the Dolphins playing in Orchard Park in December...
6 Buffalo Bills Greats That Didn't Look Right In A Different Uniform
Unfortunately, sometimes your favorite player leaves your team and when you see them it just looks weird. Here are five former Buffalo Bill greats that just look weird wearing a different team's jersey.
15 Things You Should Never Do at a Bills Home Game
Things that are a no-no to do at a Buffalo Bills home game.
The Amount Of Forecasted Snow Is Taller Than These Buffalo Bills