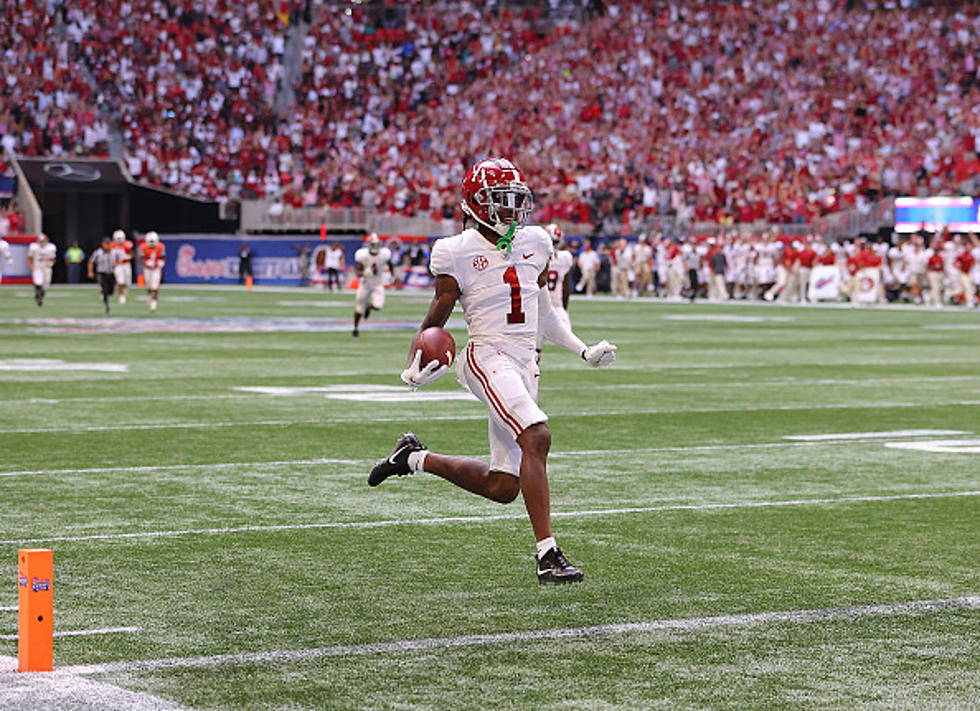 The Buffalo Bills Have To Draft This Player If He's There at Pick 25
Getty Images
We have roughly 10 weeks before the start of the 2022 NFL Draft, so there is still plenty of time to sift through potential players at each position the Buffalo Bills could take, but as we all know with the draft, it's an event that sparks interest long before April.
The Buffalo Bills have quite a lot of upcoming free agents who will be hitting the open market in March.
Edge rusher Jerry Hughes, cornerback Levi Wallace, running back Taiwan Jones, wide receivers Isaiah McKenzie and Emmanuel Sanders, defensive tackle Harrison Phillips, and quarterback Mitch Trubisky are among the most notable.
The Bills need to fill out some needs on the team, but also make sure they keep the core of the team intact.
What are some of the needs the Bills have to address?
Cornerback depth is a prime necessity this offseason. If Wallace is gone, you're left with Tre'Davious White (coming off a torn ACL), Taron Johnson, Dane Jackson and Cam Lewis.
Jackson is likely to compete for the starting cornerback spot next season, while Johnson will likely remain the third, nickel cornerback.
Offensive line depth is another position general manager Brandon Beane needs to address; particularly the interior. They have to re-sign guard Ryan Bates, who is a restricted free agent, and it was evident they weren't good enough when the line was struck with injuries and COVID in 2021 (the Jacksonville game comes to mind).
While the Bills need to address those positions, it's probably best to look for options in free agency first, since this team is a Super Bowl contender in 2022. Beane has stated before they want to sure up positions via free agency and trade, as opposed to the draft.
Many teams believe you draft best available player, and I agree with that philosophy. What I believe the Bills have to do with the 25th overall pick in April would probably fit "best player available," but also would fit a position need that not enough people are discussing.
If Alabama wide receiver, Jameson Williams is on the board at pick 25, the Bills should run to the podium to select him.
Williams is projected to be a first round pick in April and it's after he had a breakout season with Alabama, after transferring from Ohio State.
Williams did tear his ACL in the National Championship game against the Georgia Bulldogs in January, but is expected to be back in time for the NFL's regular season.
He was mocked in mid-season predictions as a top 10-15 draft pick, but has slipped in recent mock drafts because of the injury.
Williams' former teammate Garrett Wilson of Ohio State will likely be long gone before the Bills pick, as will USC wide receiver Drake London. Arkansas' Treylon Burks will likely be a first round pick as well.
The two receivers there for the Bills at pick 25 are most likely Williams and Ohio State's Chris Olave. Things could go differently, however. The draft isn't as predictable as we would like it to be.
Williams is exactly who the Bills need. He's big enough at 6'2'' and he has speed to play in the slot or on the outside, which is the versatility that the Bills crave with their receivers. He would compliment Stefon Diggs and Gabriel Davis perfectly.
The Bills pass the ball. They pass the ball a LOT. They only have Stefon Diggs, Gabe Davis and Cole Beasley under contract for next season, and Beasley is getting up there in age, plus he's a cap casualty option.
They need to address wide receiver at some point and it's an easier position to make an immediate impact on a team if they're a rookie. Jameson Williams at pick 25 makes TOO much sense for the Bills.
Top Rated Buffalo Bills Players In Madden 22
Here are the top-rated Buffalo Bills players in this year's version of Madden football.
Tom Brady Was Intercepted By These Buffalo Bills [LIST]
Tom Brady officially called it quits. He is a list of every Buffalo Bills player who intercepted him during his Hall of Fame career.
CHECK IT OUT: 100 sports records and the stories behind them