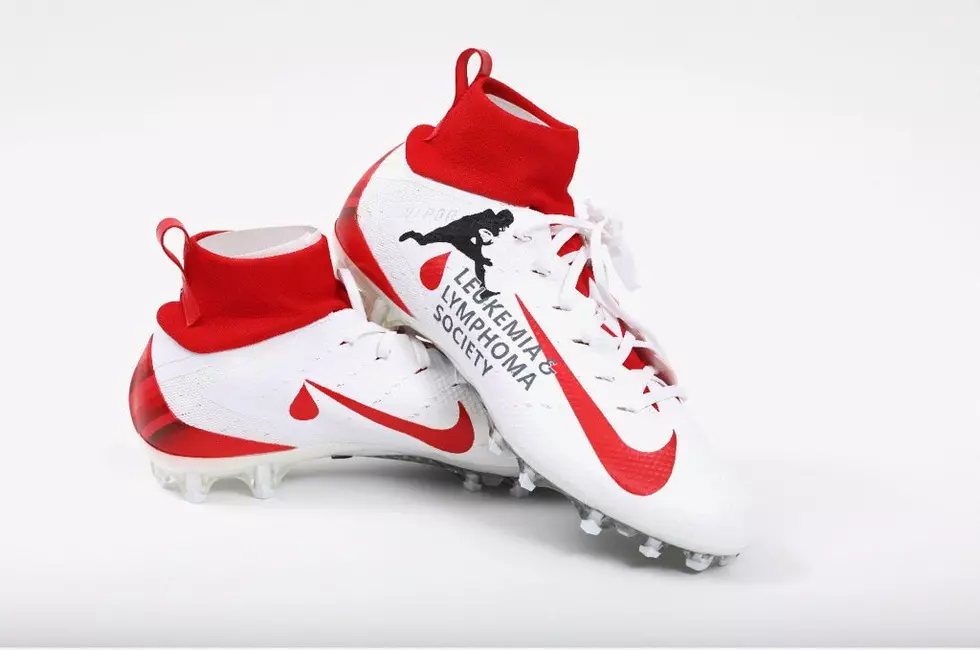 Buffalo Bills Supporting My Cause, My Cleats
Twitter / Leukemia Lymphoma Society
26 members of the Buffalo Bills debuted their custom cleats during Sunday's game against the New York Jets.  The Bills are among hundreds of players across the NFL who are showcasing charitable causes through the footwear they use during games.
Most players worked directly with Nike, Under Armour and Adidas on the design of their cleats.  Some worked with independent designers.
Those cleats will then be auctioned off with 100 percent of the money raised to be donated to the players' charities.
Here are the Bills who are participating:
Sean McDermott - Food Allergy Awareness
Lorenzo Alexander - The ACES Foundation
Josh Allen - Leukemia and Lymphoma Society's Central California Chapter
Ike Boettiger - University of Iowa Stead Family Children's Hospital
Charles Clay - Big Brothers, Big Sisters
Dion Dawkins - John R. Oishei Chilren's Hospital
Patrick DiMarco - The American Cancer Society - Buffalo/Western New York
Tremaine Edmunds - Foster Care Awareness
Reid Ferguson - JDRF (Juvenile Diabetes Research Foundation)
Ryan Groy - No Person Left Behind (Military Appreciation)
Stephen Hauschka - Wings of Hope
Jerry Hughes - Veterans One Stop Center of WNY, Military Appreciation
Micah Hyde - IMagINe for Youth Foundation
Zay Jones - Alzheimers Association (WNY Chapter)
Deon Lacey - Black Belt Community Foundation
Shaq Lawson - Cystic Fibrosis Foundation
Ryan Lewis - Orange Arrow
LeSean McCoy - Shades of Greatness Foundation
Jordan Mills - Jordan Mills Foundation
Trent Murphy - Venison Donation Coalition
Harrison Phillips - The Playmakers
Jordan Poyer - Camp Good Days
Jeremiah Sirles - Tyson's Treasure Chest
Kyle Williams - The Barham Foundation
Eddie Yarbrough - Unified Sports/Special Olympics - Colorado
Terry Pegula - A Lending Paw