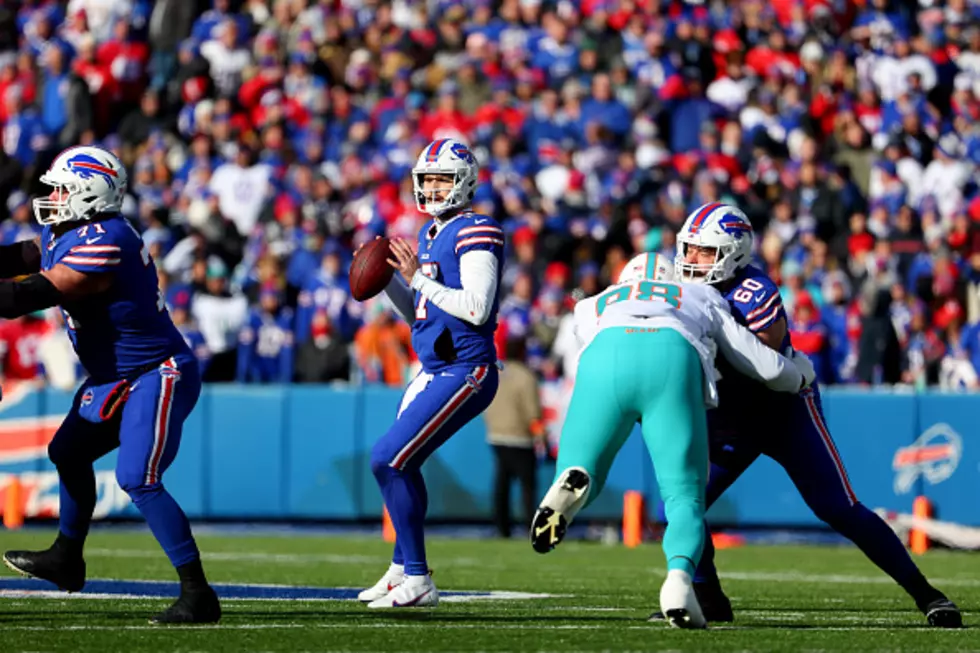 Buffalo TV Ratings for Dolphins-Bills Game Are Unbelievable
Getty Images
The Buffalo Bills have made the divisional round of the AFC playoffs the last three years and will host the Cincinnati Bengals on Sunday afternoon at Highmark Stadium.
The Bills and Bengals both played close games in the wild card round and you can argue that both teams should have lost their opening playoff games. The Bills had costly turnovers against the Dolphins but had over 400 yards of total offense, which is why they won.
The Bengals couldn't move the ball against the Ravens defense and needed a 98-yard fumble recovery for a touchdown to decide the game.
The Dolphins-Bills game from this past Sunday was an entertaining game and it pulled it pretty crazy ratings for the NFL.
The Dolphins-Bills game pulled in a 47.2 rating in the Buffalo TV market on Sunday, which means just about half the market was watching that game...that's incredible.
What's also interesting is the Kansas City TV market was second in ratings for the game at 28.2.
Miami did not even rank in the top 10 for the game.
As for national ratings, Dolphins at Bills was watched by nearly 40 million views, with an average of 30.5 million viewers for CBS. That made it the most-watched wild card game in nine years.
The NFL dominates ratings; more than any other professional sports league or television show. Buffalo always performs good in ratings for the NFL and the Bills, but the team being great helps tremendously.
We will wait and see what the ratings are for the Bengals-Bills divisional round game.
22 Famous Buffalo Sports Phrases Every Die-Hard Bills and Sabres Fan Knows
Being a sports fan in Buffalo is sometimes like knowing a different language. Here are 22 of our favorite Buffalo sports phrases you already know if you're a huge fan! And if you're new here, here's how to catch up.
16 Buffalo Bills With Some Of The Best And Worst Nicknames
15 Things You Should Never Do at a Bills Home Game
Things that are a no-no to do at a Buffalo Bills home game.