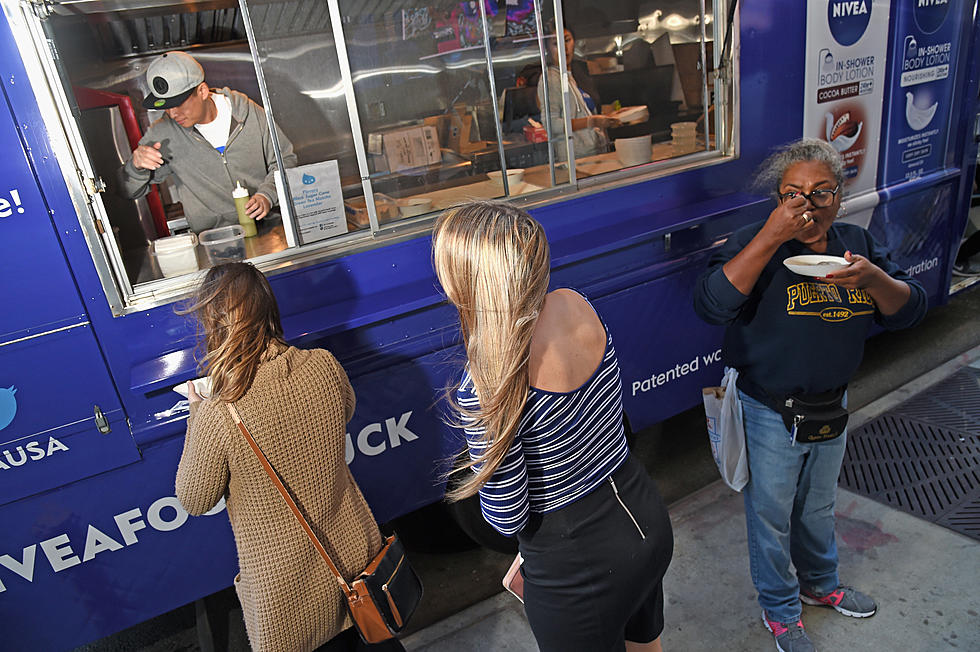 Food Truck Tuesday At Larkin Square Has Opening Date
Getty Images for Nivea
It looks like we're just a couple weeks out from the return of Food Truck Tuesday at Larkin Square. It was announced on Larkin Square's Twitter page that the night full of food truck would start the new season April 11th.  Every Tuesday through October (except 4th of July) from 5-8pm people can come down and enjoy food and live music! Parking and Admission will be free for the season and beverages will be sold on site. In addition to the variety of food trucks and live music, there will also be plenty of activities to do on-site as well.
This year there will be over 50 food trucks participating during the season and according to the Larkin Square website, 15 of them will be brand new to the event. Each Food Truck Tuesday will have 28 trucks at Larkin Square with additional trucks located at the Flying Bison Breweries parking lot.  And if you're worried about where you're going to sit to eat, don't. The Hydraulic Hearth Restaurant & Brewery will allow people to bring food purchased from the trucks into their beer garden and BFLO Distilling Co. will also allow patrons in their tasting room.
It's sound like another great Food Truck Tuesday season is almost here!
Food Trucks participating this year:
Amy's Truck
Abbott's Frozen Custard
Antone's at the Fair
Carniverous
Center Street Smokehouse
Cheesecake Guy
Cheesy Chick
Chef's Catering
Chef's Mobile Kitchen
Cruisin Crepes
Dirty Bird Chicken and Waffles
Eat Greek (Sonny's Landing)
Flaming Fish
Frank Gourmet Hot Dogs
Get Fried
Gourm-Asian Buffalo
Great Foodini
Green Acres Ice Cream
Hawaiian BBQ
Healthy Scratch
House of Munch
J&L BBQ
Jimmy Z's
Just Pizza
Kona Ice
Le Petit Poutine
Lloyd
Lomo Lomo
M&S Street Eats
Macarollin'
Maria's Bene Cibo
OG Wood Fire
Pizza Amore
Polish Villa
R&R BBQ
Rob's Kabobs
Rolling Cannoli
Rudy's Kitchen
Ru's Pierogis
Sassi Cakes
Smoothies Plus
Street Café
Sweet Hearth
Sweet Melody's
Taffy's
Ted's Hot Dogs
Thai Me Up
The Great Aussie Bite
The Meatball Truck Co.
The Salad Bar
Tuk Tea
Tuscan Wood Fired Pizza
Whole Hog
You Crack Me Up
Here is the Live Music Line Up:
4/11 – The Rockaz
4/18 – Bruce Wojick & the Struggle
4/25 – 4 B-LO
5/2 – Sharon Bailey Project
5/9 – Lindsey Holland Quartet
5/16 – The Kensingtons
5/23 – Nikki Hicks & Momma's Biscuits
5/30 – Son Boricua
6/6 – Folkfaces
6/13 – Alex McArthur Sextet
6/20 – Rust Belt Birds
6/27 – Shaky Stage
7/4 – No Food Truck Tuesday
7/11 – Will Holton
7/18 – The Outlyers
7/25 – Carol McLaughlin Quintet
8/1 – Rear View Ramblers
8/8 – Jacob Peter Band
8/15 – Larry Salter Soul Orchestra
8/22 – The Abruptors
8/29 – Jeremy Keyes Band
9/5 – Flashback
9/12 – Tommy Z Band
9/19 – Dee Adams Band
9/26 – Q Phunk
10/3 – Zak Ward Band