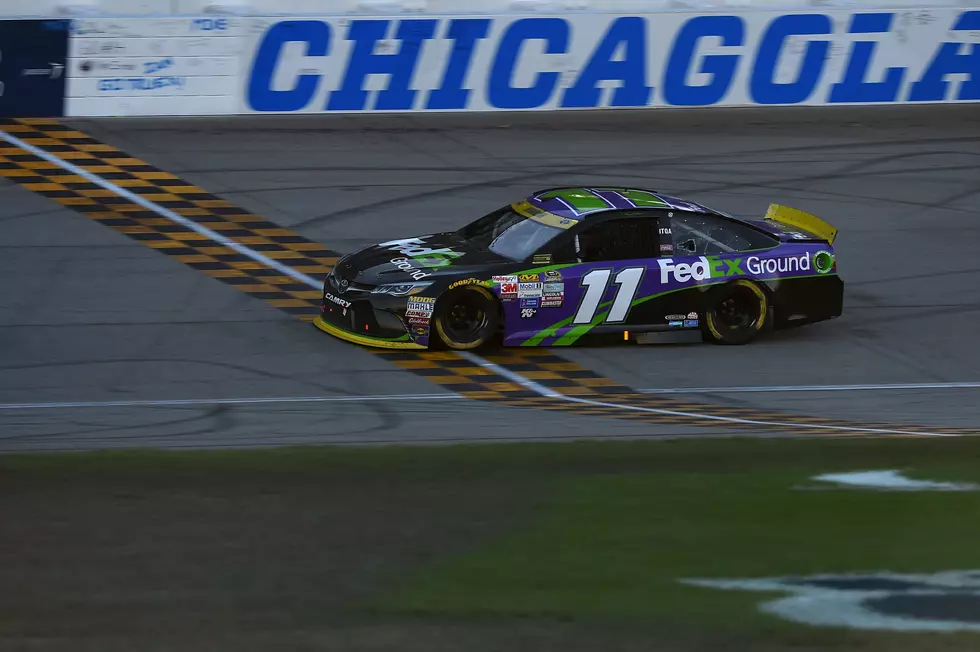 Hamlin Opens The Chase With a Win
Denny Hamlin crosses the finish line to win the opening race in the Chase for the Sprint Cup Championship at Chicagoland Speedway (Getty Images)
Denny Hamlin was the winner in the opening race in the Chase for the Sprint Cup championship at Chicagoland Speedway on Sunday.  Hamlin gambled on staying on the track with old tires, and it paid off when he took the lead on a restart with five laps left and he held off teammate Carl Edwards to grab the victory.
Things didn't start well for Hamlin.  He started 29th and spun on the second lap to put him a lap down early.  He didn't get back on the lead lap until debris on the track brought out a caution and he got the wave-around on Lap 129.
After Edwards, Kurt Busch, Ryan Newman and Matt Kenseth completed the Top Five.
Kevin Harvick confronted and shoved Jimmie Johnson after the race after their cars collided on a restart.  Harvick ended up 42nd after his car ended up with a cut tire.  Johnson said it was simply trying to stay on the track and their doors bumped.
As a result, Harvick is last in the Chase standings and according to him he'll need a victory in one of the next two races to stay in the running.  Only the Top 12 drivers in the field of 16 move on after the third race.
Matt Kenseth leads the standings by two points over Hamlin, with Carl Edwards and Kyle Busch three points back.
Up next, New Hampshire Speedway next Sunday.