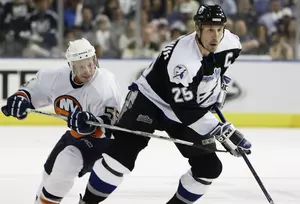 Hockey Hall of Fame Inductees Have A Buffalo Connection
Dave Andreychuk Getty Images
The Hockey Hall of Fame announced the names of seven new inductees on Monday including former Buffalo Sabre Dave Andreychuk and Buffalo businessman Jeremy Jacobs, owner of the Boston Bruins.
Andreychuk was a first round draft choice of the Sabres in 1982 and played 11 seasons for the Sabres before he was traded to Toronto and went on to play for four other teams including the Tampa Bay Lightning where he won a Stanley Cup in 2004.
With 640 career goals, Andreychuk ranks 14th on the NHL's all-time list.  Only one other player not in the Hall of Fame has more than that.  Jaromir Jagr has 765, but he's still playing.
Andreychuk has the league-record for most career power play goals with 274.  He also holds the Buffalo Sabres team record for most goals in a game.  Andreychuk scored five goals in an 8-6 win over the Boston Bruins in 1986, one short of the modern NHL record.
Three other NHL forwards were also elected into the Hall - Teemu Selanne who set an NHL record with 76 goals by a rookie with Winnipeg in 1992-93, 3-time Stanley Cup winner Mark Recchi and three-time member of the NHL first-team All-Star team Paul Kariya.
Bruins owner Jeremy Jacobs, the owner of Delaware North with its corporate headquarters located in downtown Buffalo was also named to the Hall of Fame in the builder's category.  He's owned the Bruins since 1975 and won the Lester Patrick Award for service to hockey in the United States in 2015.