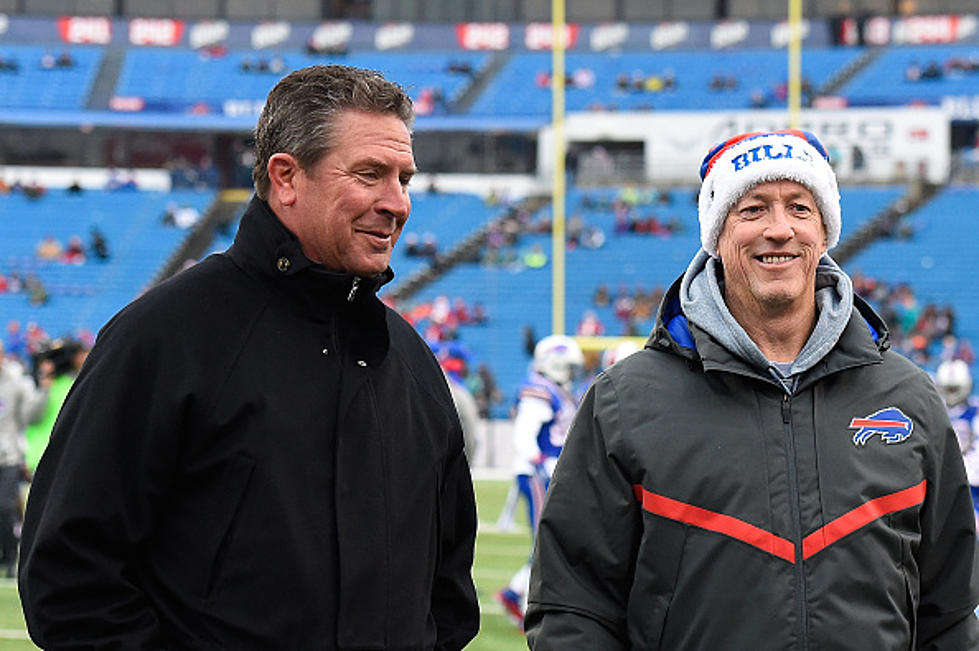 No, This Jim Kelly Tweet Isn't Real [PHOTO]
Getty Images
In a world of social media, it's easy to get faked out by something that feels real and legitimate, but in reality, is not real and is just for laughs.
You're scrolling through Twitter, Facebook and Instagram, and see something that catches your eye. It might be jarring or flat0out hilarious, but upon closer inspection, it actually is not real.
That's the case for a recently circulated screenshot of two tweets, made by what appears to be two of the greatest quarterbacks in NFL history.
If you are active on Buffalo Bills Twitter, then you likely saw the supposed tweets made by former Miami Dolphins quarterback, Dan Marino, and former Buffalo Bills quarterback, Jim Kelly.
The screenshot is pretty funny, I'm not going to lie. It has to do with Cincinnati Bengals quarterback, Joe Burrow, and the fact he might not get back to the Super Bowl, or never win one at all, which these "tweets" from Marino and Kelly refer to.
No, these tweets are not real; they were only made for laughs, as evidence by the "Sports Memery" disclaimer just under Marino's tweet.
In case you don't know, Dan Marino made it to the Super Bowl in just his second year (same with Burrow), but lost, and was never able to make it back. A big reason why Marino didn't make it back was because of Kelly, who went to four straight Super Bowls, but never won one.
Joe Burrow is a great quarterback, but because of the gauntlet of stud, young QB's in the AFC conference now (Patrick Mahomes, Josh Allen, Justin Herbert, Lamar Jackson), there's reason to think it will be tough to win one in the near future.
Just remember to be extra careful when assuming a tweet is real. While this mock tweet from Kelly and Marino are not real, it still gives you a chuckle.
Tom Brady Was Intercepted By These Buffalo Bills [LIST]
Tom Brady officially called it quits. He is a list of every Buffalo Bills player who intercepted him during his Hall of Fame career.
Predicting The Buffalo Bills 2022 Schedule
Here's a very early guess on what the 2022 Buffalo Bills schedule will look like.
LOOK: Things from the year you were born that don't exist anymore
The iconic (and at times silly) toys, technologies, and electronics have been usurped since their grand entrance, either by advances in technology or breakthroughs in common sense.
See how many things on this list
trigger childhood memories—and which ones were here and gone so fast you missed them entirely.