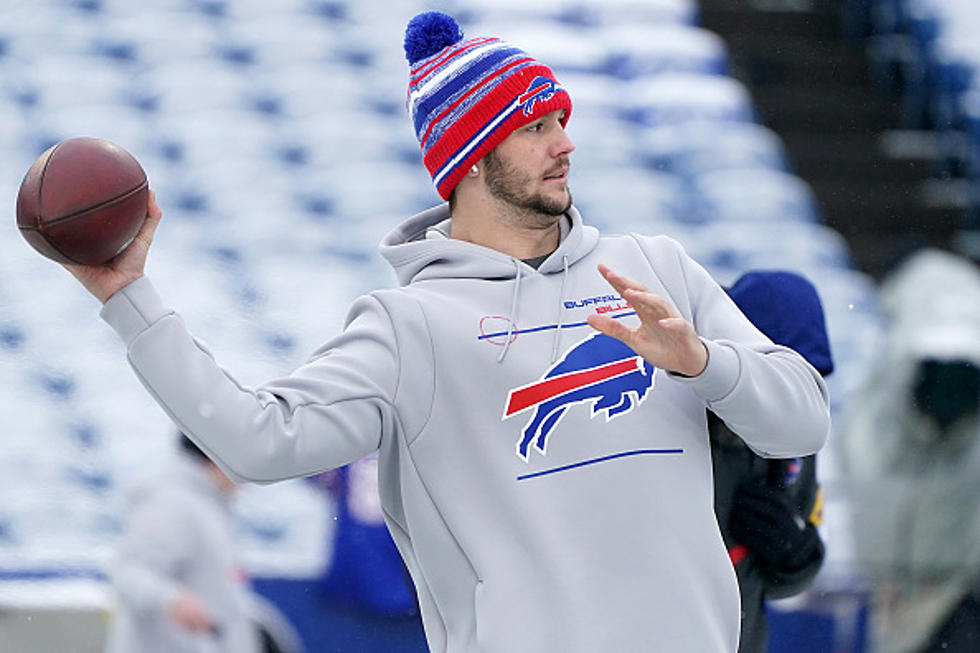 Josh Allen Looks Just Like The Bills Logo On This Play [PHOTO]
Getty Images
The Buffalo Bills are looking to clinch the AFC East this Sunday, when they host the New York Jets at Highmark Stadium at 4:25 pm.
The kickoff was originally scheduled for 1 pm, but changed to the more national-friendly broadcast timeslot, as the NFL looks to put teams who are challenging for the postseason and division titles in front of more eyeballs.
Bills quarterback Josh Allen, despite not being named to the 2021 AFC Pro Bowl roster, had 40 total touchdowns and second in the NFL behind Tom Brady for the most touchdowns in the league this year.
Allen seemingly does everything for the Bills. Buffalo probably runs the most quarterback-centric offense in the NFL (they ask Allen to do nearly everything on the majorities of plays), and Josh steps up to every challenge.
But he's also good at emulating the Bills' logo. Check out this really cool photo of Allen lunging forward, and giving us a Bills logo impression.
I also love the Atlanta Falcons player bouncing off Josh on this play in the snow. It's such a cool photo and definitely one to use as a screen-saver for a desktop or smartphone.
The Bills can clinch the AFC East with a win over the Jets or a loss from the New England Patriots against the Miami Dolphins. The Patriots would take the division if they win and the Bills are upset by the Jets.
Right now, it appears the Bills will be the 3 or 4 seed in the AFC, although the 2 seed and even the 7 seed are in play, albeit slim.
Bills playoff Gear For Sale
The Bills are in the playoffs and now you can buy playoff gear.
The Bills 2022 Opponents We Know Right Now
Here's who we know the Bills will play at home and away in 2022.
READ ON: See the States Where People Live the Longest
Read on to learn the average life expectancy in each state.
The 100 Best Places to Live on the East Coast