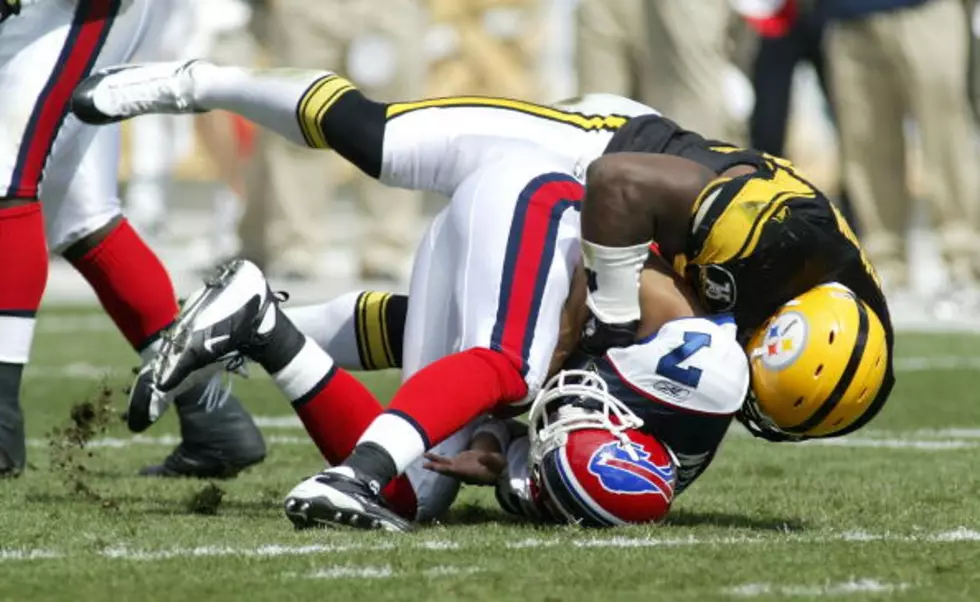 Two Buffalo Bills Quarterbacks Who Ruined My Childhood
Getty Images
Sometimes I think it's a a miracle I'm still a Buffalo Bills fans. Why is that?
Obviously, I was never really going to waver from my team, even though they endured a 17-year playoff drought between 2000-2016. I started watching every Bills game during the 2000 season, the first year of the drought. My first vivid football memory was Home Run Throwback (The Music City Miracle).
Yes, probably the world's worst time to be born and be a diehard Bills fan. I just missed out on all of the good in the '90s and got all of the bad in the 2000s.
The Bills first misstep during that drought was the hiring of Gregg Williams as head coach. Williams was a great defensive coordinator, but it was clear he was not ready to be a head coach; and the hiring of Tom Donahoe as general manager was also a bad move.
Donahoe did make things fun though. He offer-sheeted linebacker Takeo Spikes, traded wide receiver Peerless Price to the Atlanta Falcons for a first round pick, and then used that first round pick on Miami (FL) running back, Willis McGahee.
Not to mention signing the likes of Jeff Posey, Bobby Shaw, Mark Campbell, London Fletcher and Izell Reese.
It didn't work, however, and Donahoe left at the end of the 2005 season.
Dick Jauron as head coach and Marv Levy as GM didn't work, either. Both Donahoe and Levy/Russ Brandon made two moves in the NFL Draft that single-handedly set the franchise back a decade and caused pain for my childhood and teenage years.
The drafting of quarterbacks J.P. Losman of Tulane (2004) and Trent Edawards of Stanford (2007).
Losman was not only a first round pick by Buffalo, the Bills traded up to draft him and gave up their 2005 first round pick to do so. That 2005 class included Aaron Rodgers, who the Bills had the chance to draft if they had their pick.
Losman was bad. He had the confidence and demeanor, but he never processed the defense well and always seemed to lock in on his number one WR, Lee Evans.
Edwards was taken in the third round of the 2007 NFL Draft and was given the stamp of approval by former 49ers Hall of Fame coach, Bill Walsh, which was enough of a endorsement for Levy and company in Buffalo.
Edwards was nicknamed, "Captain Checkdown" by Bills fans, because of his unwillingness to take chances down the field.
His career started promising. He outplayed Losman in 2007 and gave fans optimism with the Bills 5-1 start in 2008. That's when things fell apart. Edwards and the Bills finished 6-10, and Edwards disappointed in 2009 and got hurt. He was cut by the Bills after week 2 in 2010 in favor of Ryan Fitzpatrick.
Bills fans deserve Josh Allen and the team they have now. I decided to re-watch a Bills-Jets game from 2007 on YouTube and I could not believe we watched those kind of games week after week after week. The offense was abysmal.
Actually, come to think of it, it's a miracle my love for football never wavered after watching those 2000s drought teams...
Bills Mafia's Wishlist For The New Buffalo Stadium
The Bills are building a new stadium and here is a wishlist from Bills Mafia.
Full List Of Buffalo Bills Who Have Been Arrested Since 2000
CHECK IT OUT: 100 sports records and the stories behind them