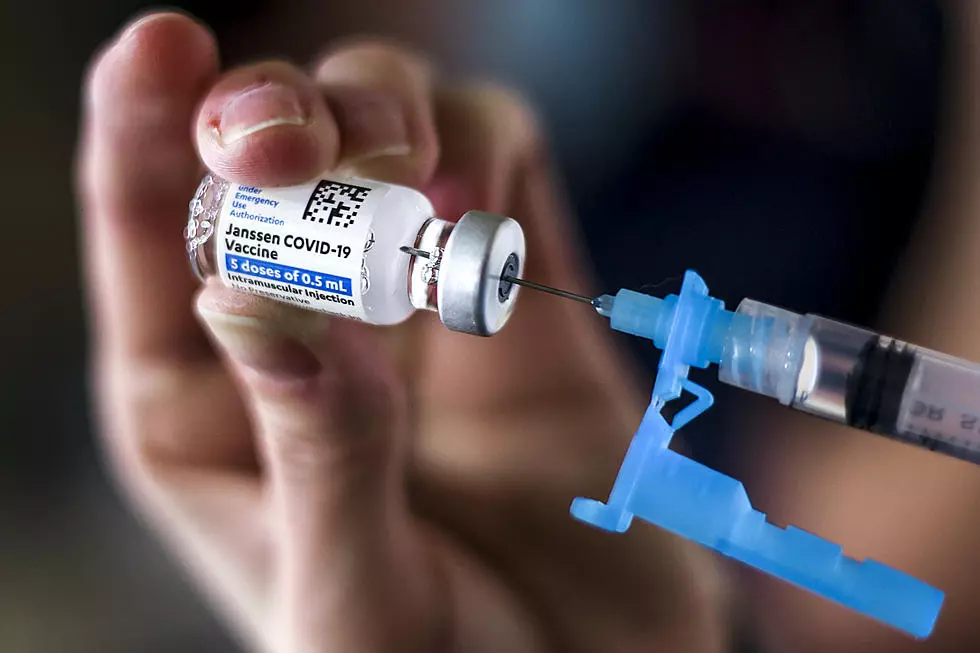 Judge Blocks New York from Mandating Vaccine for All Healthcare Workers
Getty Images
A Federal Judge has temporarily halted the vaccine mandate that New York State had placed on healthcare workers. U.S. District Judge David Hurd issued an order on Tuesday, September 14, 2021.  The order stops the mandate, which was issued by the Governor's Office on August 16, because it doesn't allow for religious exemptions.  New York had specified that anyone who works in healthcare in a patient-facing role, must get vaccinated by September 27.
The State was sued by 17 healthcare professionals over the mandate. The group includes employees in a few different healthcare positions.  They are listed in the filing document as Dr. A., Nurse A., Dr. C., Nurse D., Dr. F., Dr. G., Therapist I., Dr. J., Nurse J., Dr. M., Nurse N., Dr. O., Dr. P, Technologist P., Dr. S., Nurse S., and Physician Liason X.  The group alleges that the mandate violates their First and Fourteenth Amendments. It says in the order that the plaintiffs' religious beliefs force them to decline any of the vaccines that are currently available.
The Judge wrote,
Upon review of plaintiff's memorandum of law and supporting documentation, it is ordered that

1. Plaintiff's motion for a temporary restraining order is granted;

2. Defendants, their offices, agents, employees, attorneys and successors in office, and all other persons in active concert or participation with them, are temporarily enjoined enforcing, threatening to enforce, attempting to enforce or otherwise requiring compliance with the vaccine mandate.
The State must file its reply by next Wednesday, September 22 at 5 pm.
Prior to leaving office, Governor Cuomo announced on August 16, that all healthcare professionals must get vaccinated,
all healthcare workers in New York State, including staff at hospitals and long-term care facilities (LTCF), including nursing homes, adult care, and other congregate care settings, will be required to be vaccinated against COVID-19 by Monday, September 27.
All New Yorkers Who Work for These Type of Companies Must Get Vaccinated
Aside from the temporary block, all of the following workers in New York State have been mandated to get vaccinated:
- On September 9, 2021, U.S. President Joe Biden made an announcement that affects many New Yorkers. Biden announced that any employee of a company with more than 100 employees must get vaccinated against COVID-19 or show a weekly negative test,
My job as President is to protect all Americans. So, tonight, I'm announcing that the Department of Labor is developing an emergency rule to require all employers with 100 or more employees, that together employ over 80 million workers, to ensure their workforces are fully vaccinated or show a negative test at least once a week.
The announcement will affect just under 50 percent of New York Employees.
- All school personnel in the state will be required to take the vaccine. Gov. Kathy Hochul made the announcement on her first day in office, outlining her plan for protecting students in NY,
- CUNY and SUNY students must be vaccinated in order to attend in-person classes.
- All active-duty and reserve military members (not directly mandate through NYS, but affects members of the military in the state). On August 25, the United States Secretary of Defense Lloyd J. Austin III, issued a memo stating that all members of the armed services must be vaccinated.
There are five military bases in New York - Fort Drum Army Base in Jefferson, Fort Hamilton Army Base in Brooklyn, Us Military Academy Army Base in West Point, Watervilet Arsenal Army Base in Watervilet and Saratoga Springs NSU Navy Base in Saratoga Springs. The National Guard has approximately 21,000 soldiers in the state.
If you live in New York State and would like to get the vaccine, you can call 1-833-NYS-4-VAX or get more information here.
7 Things to Know About the Delta Variant of COVID-19