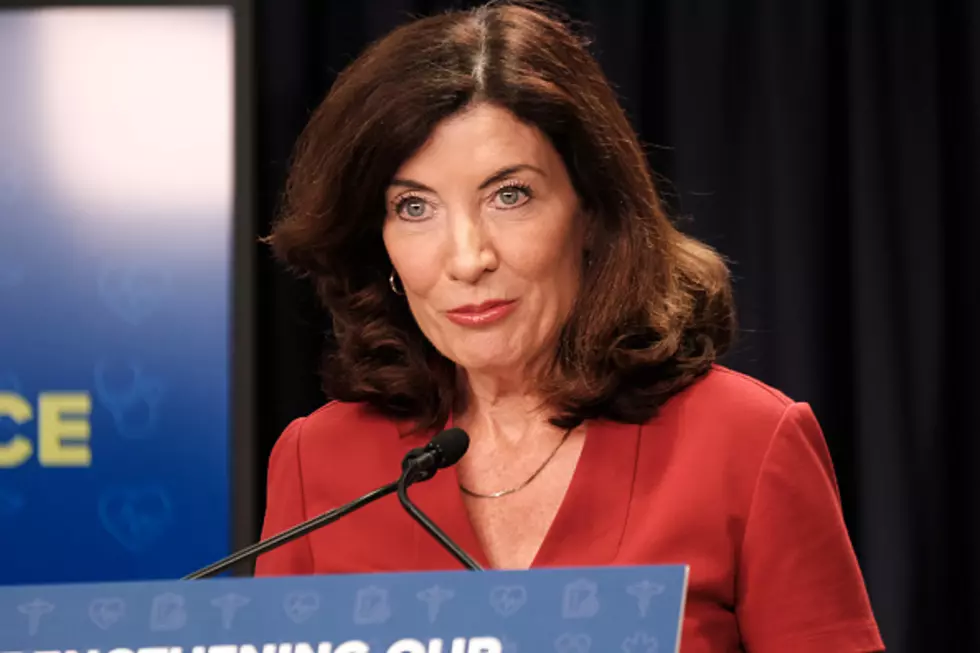 Gov. Kathy Hochul Says New York Residents Should Conserve Water
Getty Images
There's about five weeks remaining in summer, which means this time of the year can be a mixed bag of both sunshine and precipitation.
This summer has been extremely hot around New York State, although as have had some relief in recent days and weeks from the extreme humidity of July.
Many laws and business fronts have seen brown and yellow-looking grass from a lack of precipitation. The next seven days should feature plenty of rainfall, which is severely needed, but on Tuesday, New York Governor Kathy Hochul took a step to ensure the right steps are taken.
Gov. Hochul announced that she had ordered the New York State Department of Environmental Conservation to issue a "drought watch" for parts of the state.
Hochul says the residents in the drought regions should take steps to conserve water, whenever possible.
The counties impacted by the new drought watch include Western New York (Erie, Niagara), the southern tier (Chautauqua, Cattaraugus, Allegany, Steuben), Central New York (Ontario, Seneca, Cayuga), Upstate New York (Schenectady, Saratoga, Albany) and even parts of Long Island.
Dutchess, Orange and Putnam counties are also in the drought watch.
Rain showers will be here on Tuesday, as well as the rest of this week, as we get much needed rainfall for the state.
Judging by the forecast, the rain pattern should continue through early next week, which should help considerably, but Gov. Hochul has taken action to prevent the drought conditions from getting any worse.
See the 11 Worst Places To Live In NY [RANKED]
Money Inc. has ranked the worst places to live in the Empire State based on crime, employment opportunities, local schools, and access to recreation. Here we will feature the 11 worst on the list, including one of our beloved Capital Region cities. Which is not a well-deserved honor!
"Fifteen Favorites" To Put On Your Upstate New York Summer Bucket List
As a long time Upstate New York travel writer, with ten books published, I have always kept a journal of many things I have seen or visited over my 12-years of writing. Here is a random selection of "15 Faves" of mine that I suggest you visit this summer. You won't be disappointed.
LOOK: What major laws were passed the year you were born?
Data for this list was acquired from trusted online sources and news outlets. Read on to discover what major law was passed the year you were born and learn its name, the vote count (where relevant), and its impact and significance.