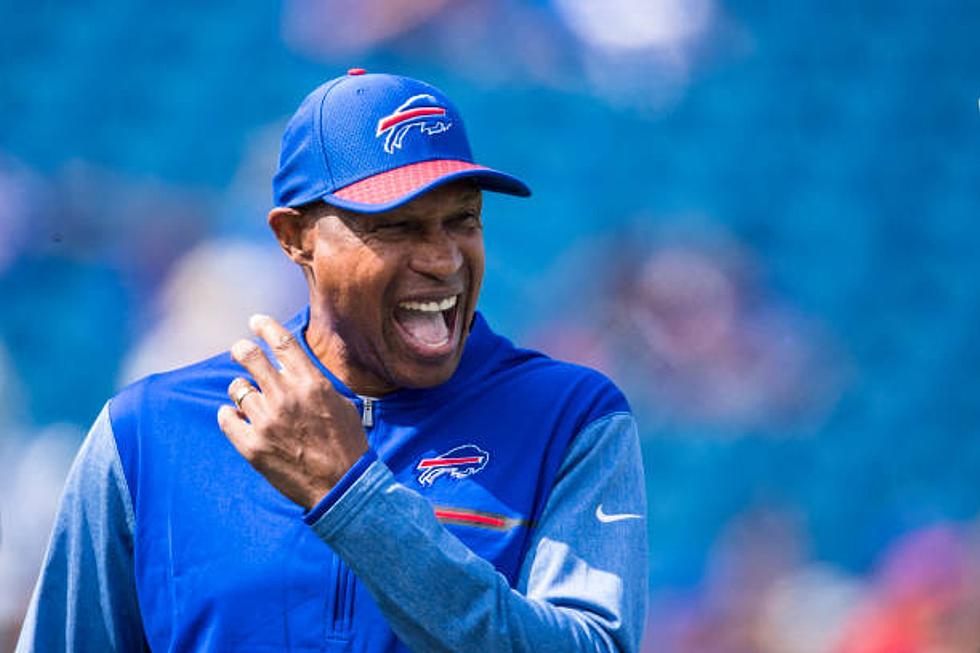 Leslie Frazier Reveals His Plans For This Season
Getty Images/Canva
After months of speculation, Leslie Frazier has finally opened up about why he left the Buffalo Bills and what his plans are for the future. 
Back in February, the Buffalo Bills announced that assistant coach and defensive coordinator Leslie Frazier would be stepping away after six years with the team. 
Although no specific reason was given at the time, the Bills said that Frazier would be taking a year off from football and hoped to return to coaching in 2024 (although not necessarily with them).
When the news broke, fans were torn. Although much of Bills Mafia were frustrated by some of the plays called during must-win games, many more praised Frazier for the way he led the Bills defense over the past few seasons.
Why Did Leslie Frazier Leave The Bills?
Speculation mounted that Frazier could have been forced out by the organization after a disappointing finish this past season. Others suggested that perhaps he just wanted a break due to the mental pressure of the job.
But for three months, Leslie Frazier stayed quiet about his decision to leave the Buffalo Bills - until now.
Leslie Frazier Finally Speaks
Three months after his exit from Buffalo, Frazier sat down for an interview with Sports Illustrated, marking the first time he's publicly commented since his departure. 
Although he didn't reveal specifics as to why he left the team, he talked at length about how he's been spending his time off, along with what he hopes is on deck for his career.
What Has Leslie Frazier Been Up To?
Frazier told SI's Albert Breer that after deciding to take a year off from football, he had difficulty adjusting to all of his free time. Considering he's been involved in the game for over 30 years as either a player or a coach, it was understandable.
"It was a challenge just trying to figure out what to do with myself. But over the last three or four weeks, things have gotten a lot better as far as me being organized in how I want to spend my time. And I'm thankful for it, just very, very thankful that I can do this."
The publication reported that Frazier has been spending the past few weeks visiting with old coaching friends, and will likely take this upcoming season to attend training camps and study up on league trends.
This makes it all the more obvious what he's potentially getting ready for.
Leslie Frazier Wants To Be A Head Coach
After being listed in Mid-May as a participant in the NFL's Coach Accelerator program, the buzz began to spread that Frazier was finally ready to get back on the sidelines. 
He confirmed this to Sports Illustrated, saying,
"My goal is to be a head coach. I know I don't have much time left, I'm at an age where it seems like owners are going younger and younger, but I think I have some things I can bring to the table. We'll see what happens."
At 64 years old, Leslie Frazier is older than many current suits in the NFL. However, with the years of coaching experience he has behind him (24 of them in the NFL), he certainly has a wealth of knowledge to bring to his next opportunity.
However, Frazier added that if he doesn't get an offer to coach again, he'll still be okay.
"If that doesn't happen, I'm good. I've had a good career. I'm good."
We'll be keeping our eyes open to see if and where Leslie Frazier ends up in 2024, even though it most likely won't be back in Western New York with Buffalo.
One Sentence That Will Immediately Enrage Buffalo Bills Fans [LIST]
Disclaimer: If you're a Buffalo Bills fan and feeling slightly annoyed today, you're about to fly off the handle.