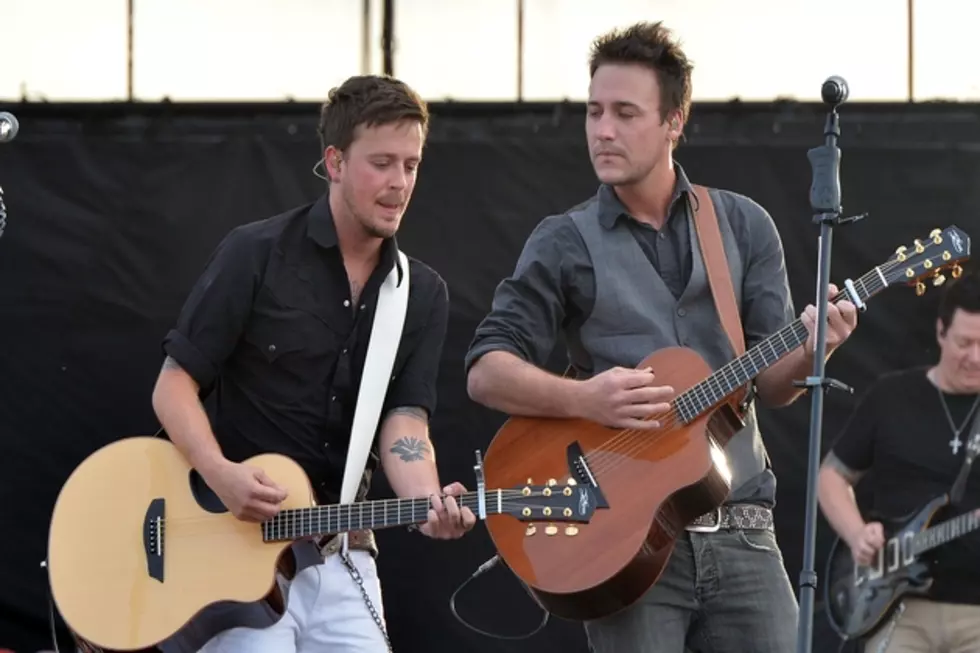 Love and Theft: Upcoming Album 'Pulls From All of Our Influences'
Rick Diamond, Getty Images
Love and Theft are getting ready to release a brand-new album, their first on Curb Records. The project, the duo says, was recorded differently than their previous records, allowing them more room to be creative and grow as artists.
"It pulls from all of our influences, little pieces and parts of everything we've done to this point," Eric Gunderson tells The Boot. "We're pretty excited about it. [We've] got a new producer on the project named Jim Ed Norman; he's been a lot of fun to work with. He's worked with a lot of different legendary artists … He brings a completely different perspective to the recording process and to the music."
The new sounds on Love and Theft's upcoming album came about, at least in part, because Gunderson and his duo partner, Stephen Barker Liles, weren't boxed into a set amount of studio time.
"Curb has their own studio," explains Barker Liles. "A lot of times, you're renting a studio, and you've got to be out by 3 o'clock. This one, we just camped out and messed around with stuff for a long time, and [were] more creative."
When Love and Theft released their debut album, World Wide Open, in 2009, both Gunderson and Barker Liles were single, and neither of them had children. But now, both men are happily married and are fathers, and they're finding out what it's like to juggle life as a country artist with life with a family.
"I'm really fun; I'm probably too fun," Barker Liles, who is the father to 3-year-old Jett and will welcome a daughter later this year, admits. "My wife's like, 'You've got to be more stern' ... But we're gone so much, and it's always like, everything is fun. So now I'm trying to figure out how to discipline, and what kind of dad I'm going to be as far as that goes, and that's really tough.
"You threaten it, but then carrying it out is the hardest part -- especially when he's like, 'Don't spank me! I don't want time out!' and he looks up at you," Barker Liles continues. "'I'll never do it again!' even though I know it's not true. I'm probably too lenient."
Adds Gunderson, whose son Camden will turn four in March, "I'm definitely stricter than my wife. She kind of lets him do whatever. I don't want him to turn into a nightmare in the next year, so I'm trying to nip it in the bud before it gets too crazy. Like [Barker Liles] said, we're not home as much, so you don't want to be the dad that comes home and you're too stern."
Conversations at home have found their way into Love and Theft's new music, too: Their forthcoming record's first single, "Candyland," was inspired a joking conversation that Barker Liles had with his wife before a writing session several years ago.
"[My wife] was like, 'You should write about candy.' I was like, 'Alright.' She just said it randomly to be funny, but it ended up being the title," Barker Liles recalls. "She's pregnant, so she's not going to be in the video. I don't know what I'm going to do, because I don't think I'm going to roll around with some girl I don't know."
A release date for Love and Theft's new album has yet to be announced. "Candyland" is available for download on iTunes.