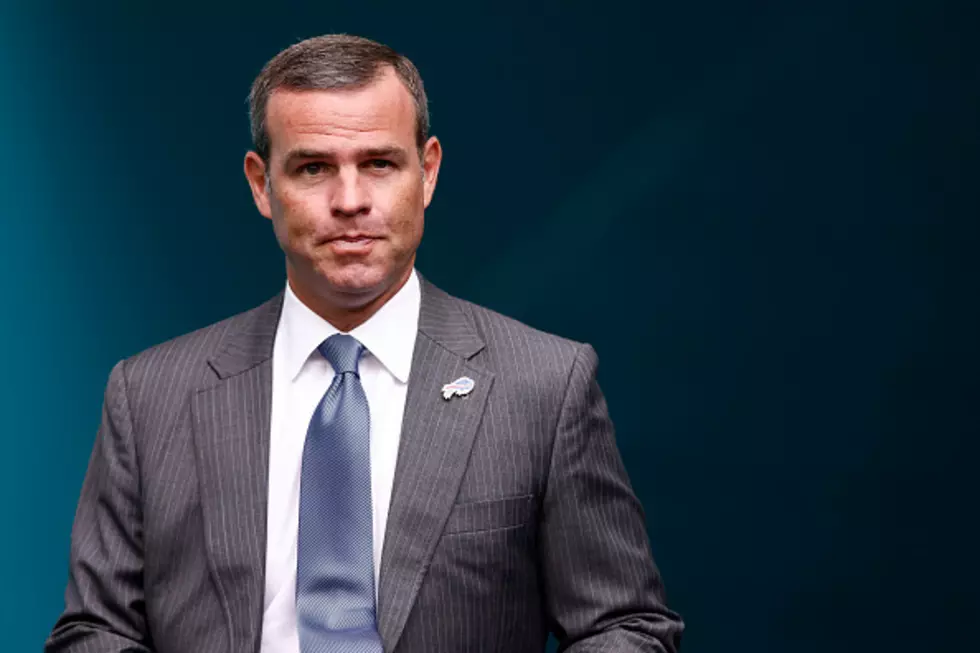 Open Letter to Buffalo Bills General Manager Brandon Beane
Getty Images
Yesterday was not the way anyone in Buffalo wanted the 2022 regular season to end.
Sunday's loss to the Cincinnati Bengals was a brutal way to go into the off-season. The Bengals dominated in every way possible, minus special teams. The offense and defense were not match. There was no juice. No life (compared to the rest of the season.
The Bills coaching staff were out-schemed by the Bengals coaching staff. The execution wasn't there. Yesterday was not the close loss we all envisioned happening, if the Bills were to come out on the short end of a great game -- yesterday was not a great game.
Brandon Beane, you have been the overwhelming favorite GM of Buffalo sports fans over the last 20 years. I would have to go back the post-lockout years of the Buffalo Sabres and GM Darcy Regier for the last time a Buffalo sports GM was as beloved. If not, back to John Butler's time in Buffalo with the Bills 20-plus years ago.
Brandon, despite what you may have seen on Twitter or social media, no reasonable fan is asking for an overhaul of the roster or coaching staff. That would be reckless and not in the best interest of the organization; nor will I think you do that.
However, there absolutely needs to be retooling with the roster and that's a fact.
The salary cap is a problem this season and there will be tough decisions you and the entire staff has to make: safety Jordan Poyer, linebacker Tremaine Edmunds, running back Devin Singletary, guard Rodger Saffold, wide receiver Jamison Crowder and punter Sam Martin just to name a few.
Some of those players will probably need to be let go, because the offense needs addressing this season.
It's weird because if you look at the stats of the offense this regular season, they appear good: second best offense in the league for yards per game and there were games in the first half of the season the Bills blew their opponents out.
However, that game against the Bengals proved this team needs upgrades at wide receiver. Quarterback Josh Allen needs help. He's been superman the last three years and while Stefon Diggs will enter 2023 as the number one wide receiver, this team needs better opposite him. They need a first round rookie wide receiver and another addition or two.
You see teams like the Bengals (Ja'Marr Chase, Tee Higgins), Philadelphia Eagles (A.J. Brown, DeVonta Smith) and San Francisco 49ers (Deebo Samuel, Brandon Aiyuk) and defenses that have to play them differently, because that threat of having multiple dangerous weapons at WR.
You haven't drafted a wide receiver before the 4th round since you have been here and that needs to change this off-season.
The offensive line needs draft capital and free agency resources towards it. It needs to improve. It hasn't been good enough.
I'm not about to say that Ken Dorsey and Leslie Frazier need to go. But perhaps some changes need to be made in game plans and overall scheme. This year wasn't good enough and I know there were crazy adversities the team was forced to go through on and off the field.
Josh Allen is in his prime and Stefon Diggs will be 30 next season. The window certainly isn't closed but keeping things status quo is a mistake for this team's immediate future.
Four Bills Players Who Could Leave Buffalo in 2023/2024
Four players that Buffalo Bills general manager Brandon Beane will have to make decisions on.
Best Free Agents Signed By The Buffalo Bills
The Buffalo Bills are gearing up for a run at the Super Bowl next season and some big-time free agents are already reaching out to the Bills looking to join the team. Check out some of the best free agents the Bills have signed in the past.
22 Famous Buffalo Sports Phrases Every Die-Hard Bills and Sabres Fan Knows
Being a sports fan in Buffalo is sometimes like knowing a different language. Here are 22 of our favorite Buffalo sports phrases you already know if you're a huge fan! And if you're new here, here's how to catch up.