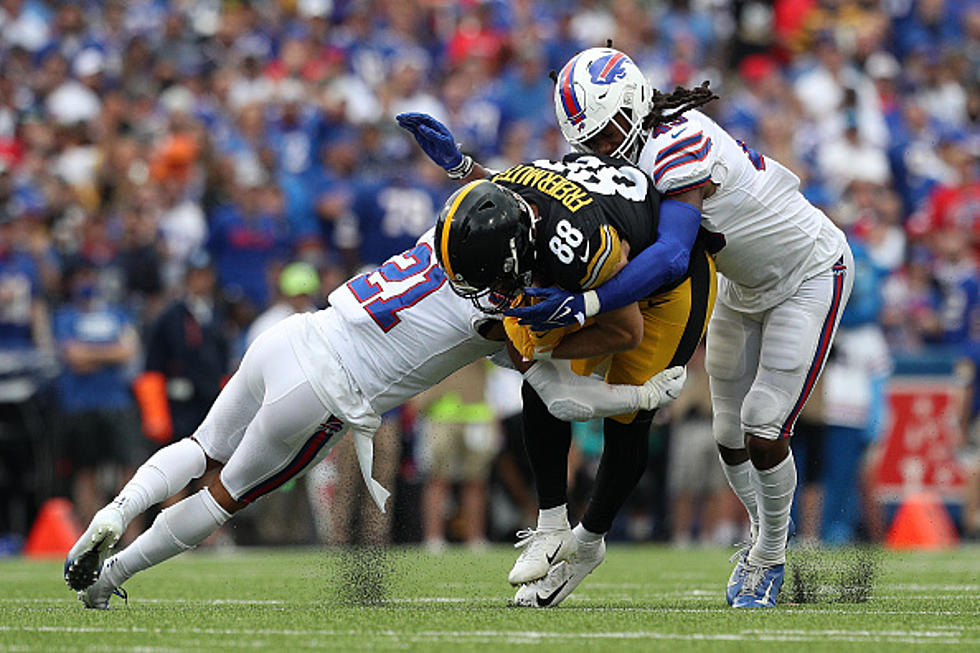 Report: Buffalo Bills Expected to Lose Two Cornerstone Players
Getty Images
The start of NFL free agency is next Wednesday, which is always the busiest week on the NFL calendar.
The legal tampering period starts on Monday, so teams can contact players and their agents for potential interest. They can officially sign when the new league year begins at 4 pm EST, on Wednesday, March 15th.
The Buffalo Bills have plenty of pending free agents and since they're currently over the salary cap, the chances of losing most or all are likely. Fans and Buffalo media have known that for a while but it's not been said by one of the league's top reporters until today.
ESPN's senior NFL insider Adam Schefter reports that the Bills are expected to lose both safety Jordan Poyer and linebacker Tremaine Edmunds.
Poyer and Edmunds have been mainstays for the Bills defense since the 2018 season and for Poyer, he's been a starter on the Bills defense since 2017. Both are important parts of Leslie Frazier's three-cornerback system, which emphasis stopping the pass.
With Frazier taking a year off from coaching, that might mean the Bills are willing to change up their philosophy on defense and perhaps the money both will command on the open market, coupled with an altered philosophy on defense, will make both expendible.
Poyer leaving is absolutely not surprising. He's 31 and the Bills have to allocate money elsewhere. Edmunds is a little more surprising but considering he's likely to command $20-25 million on the open market, the Bills may be priced out of a new contract with him.
Buffalo likely to have a new starting safety and linebacker in 2023.
6 Buffalo Bills Greats That Didn't Look Right In A Different Uniform
Unfortunately, sometimes your favorite player leaves your team and when you see them it just looks weird. Here are five former Buffalo Bill greats that just look weird wearing a different team's jersey.
15 Hilarious Buffalo-Themed Coffee Mugs For Bills Fans And More
In honor of National Coffee Day, here are fifteen sweet mugs to hold your hot cup of joe while proclaiming your love for Bufflalo.
22 Famous Buffalo Sports Phrases Every Die-Hard Bills and Sabres Fan Knows
Being a sports fan in Buffalo is sometimes like knowing a different language. Here are 22 of our favorite Buffalo sports phrases you already know if you're a huge fan! And if you're new here, here's how to catch up.