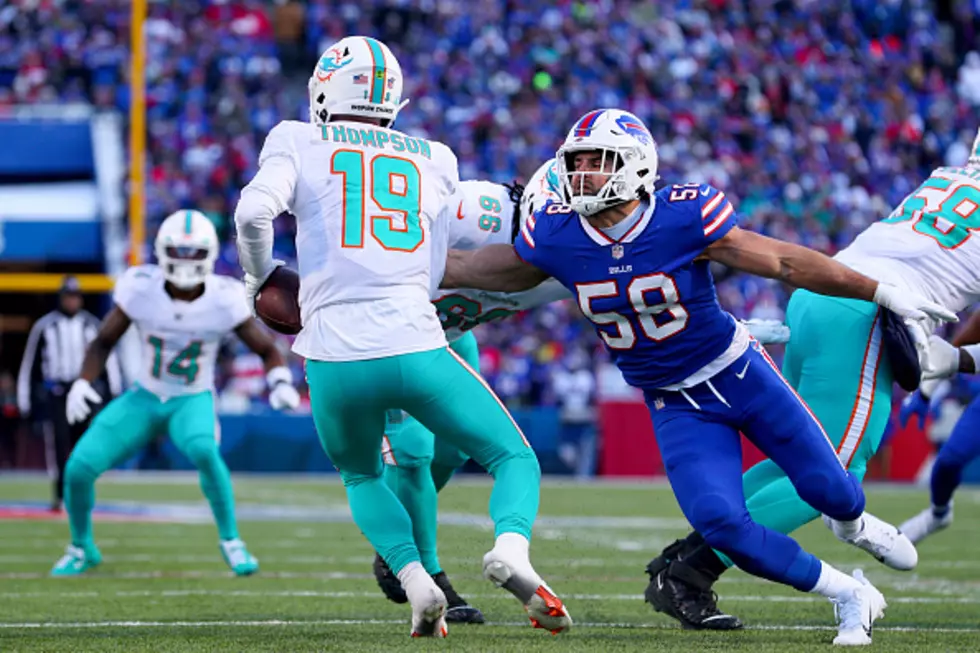 Buffalo Bills Player Responds to Angry Dolphins Fans
Getty Images
The Buffalo Bills will host the Cincinnati Bengals at Highmark Stadium this Sunday afternoon for the AFC Divisional round.
It's a game many are looking forward to, since their January 2nd game on Monday Night Football was cancelled due to the aftermath of Damar Hamlin's cardiac arrest.
There has still been some talk of the Bills close win over the Miami Dolphins in the wild card round from this past Sunday, which was a game that frustrated Bills fans, despite the victory.
The Dolphins started third-string rookie Skylar Thompson, who only went 18 of 45 in passing attempts. Miami had a host of key injuries but stayed with the Bills until the very end.
During one of the last Dolphins drives on offense, Thompson scrambled out of the pocket and took a big hit from Bills linebacker Matt Milano along the sideline. Thompson was barely in bounds when he was hit but Dolphins fans and players wanted a personal foul call against Milano for the hit.
Bills guard Rodgers Saffold responded to those angry Dolphins fans and said the hit was legal, in-bounds and that defenders are taught to defend every blade of grass.
I don't blame the Dolphins sideline here. For one, it's a bang-bang play and they don't get the luxury of seeing replays. Secondly, sidelines are instructed to go crazy for potential calls all the time.
But the replay clearly shows Thompson was still in-bounds when Milano hit him. It was a great no-call by the official and Saffold is 100 percent correct in his assessment.
Gameday Rules For Buffalo Bills Fans That Watch From Home
22 Famous Buffalo Sports Phrases Every Die-Hard Bills and Sabres Fan Knows
Being a sports fan in Buffalo is sometimes like knowing a different language. Here are 22 of our favorite Buffalo sports phrases you already know if you're a huge fan! And if you're new here, here's how to catch up.
15 Things You Should Never Do at a Bills Home Game
Things that are a no-no to do at a Buffalo Bills home game.