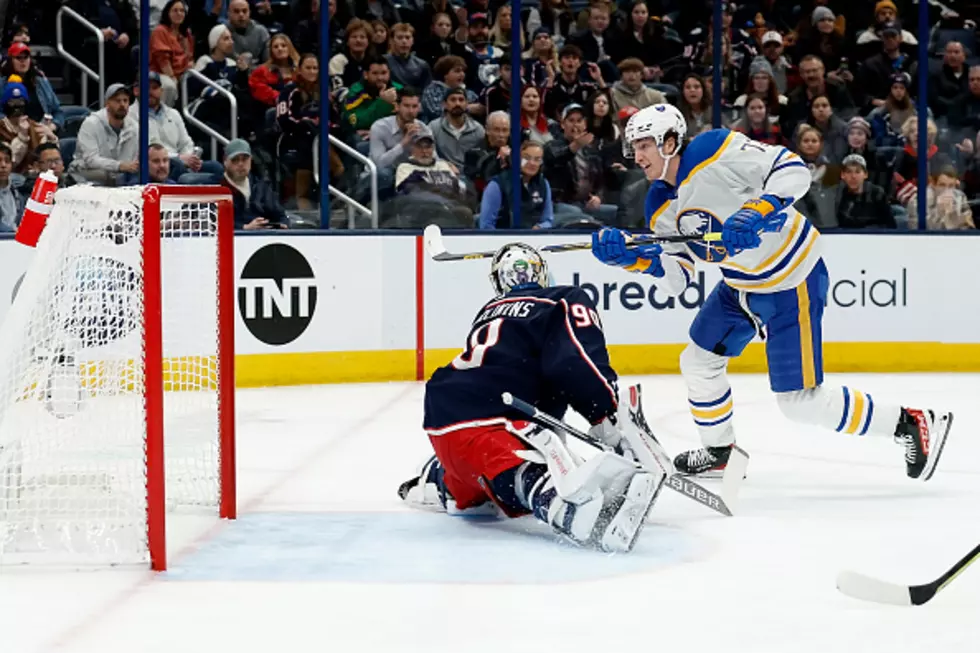 Sabres Have the Greatest Breakthrough Player in Sports History
Getty Images
The Buffalo Sabres are now six points out of the final Wild Card playoff spot in the Eastern Conference, after their amazing 9-4 win over the Columbus Blue Jackets on Wednesday night.
The game was featured on TNT, although many Sabres fans had problems with the feed of the game in the first period. Still, the game made national sports headlines, and that's because of one incredible center.
Tage Thompson made history on Wednesday night, scoring 5 goals in the win over Columbus. The first four goals game in the first period, which was the first time that has ever happened in Sabres history. Thompson's 5 goals tied the franchise mark set by Dave Andreychuk in 1986.
It's not just enough that Thompson scored five goals, it's the way he scored them. They were goal-scorers goals.
Tage Thompson's historic night was going crazy on social media.
Thompson is now third in the NHL goal scoring race, behind Connor McDavid and Jason Robertson.
We have never seen a player who has had this kind of ascension before; in any of the four major sports.
Tage Thompson went from a fourth line winger, who was on the path as a first round bust, into one of the top five forwards in the NHL and a viable 50+ goal scorer, seemingly overnight.
Even Josh Allen didn't have that kind of acsention. Allen had a stead progression from 2018-2020. Martin St. Louis was on waivers from the Calgary Flames in the early 2000s and then became a star for the Tampa Bay Lightning, but Thompson's breakthrough is even more amazing.
Kurt Warner may be someone you look at, but Warner never had an NFL shot before his unprecedented 1999 regular season. Thompson had a body of work, albeit relatively small, in the NHL. Then broke out into this freak player who scores at will.
The $7 million per year deal that general manager Kevyn Adams signed Thompson to before the season is looking like the biggest bargain deal in professional sports.
Top 10 Most Underrated Buffalo Sabres of All-Time
Buffalo Sabres Goalie Masks
22 Famous Buffalo Sports Phrases Every Die-Hard Bills and Sabres Fan Knows
Being a sports fan in Buffalo is sometimes like knowing a different language. Here are 22 of our favorite Buffalo sports phrases you already know if you're a huge fan! And if you're new here, here's how to catch up.