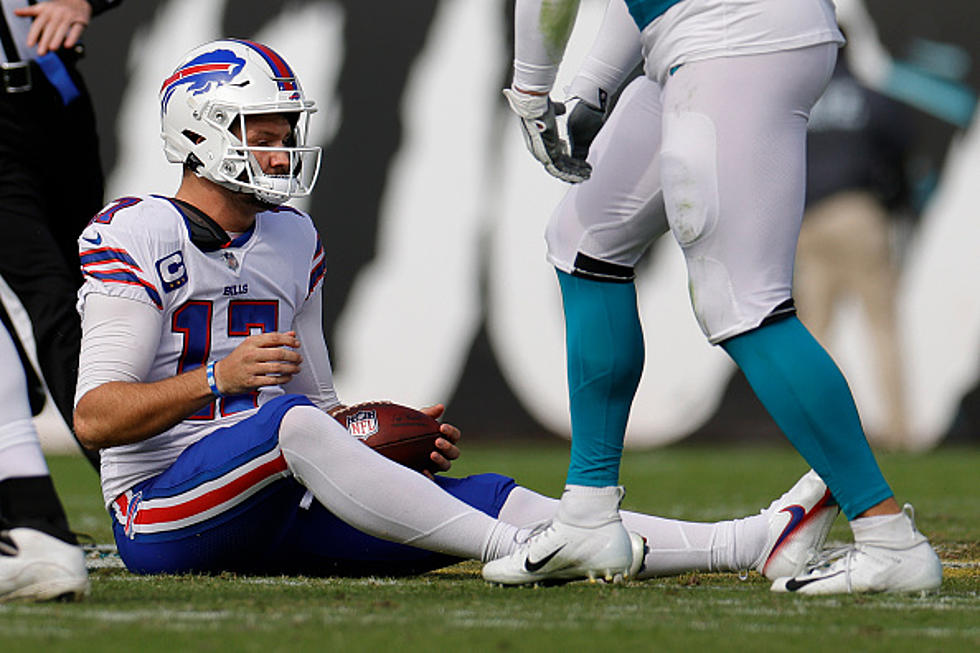 The Bills Just Might Have Had Their Worst Loss Under McDermott
Getty Images
It was a game that every single Buffalo Bills fan wished they could remove from their mind forever.
The Buffalo Bills lost to the previously 1-6 Jacksonville Jaguars by a score of 9-6, in what was an absolutely brutal game to watch for any fan.
The Bills problems were everywhere, but the biggest negative takeaway from today's loss was the atrocious play of the offensive line. The Bills were without guard Jon Feliciano (on injured reserve with a calf injury) and rookie tackle, Spencer Brown, who has been nursing a back injury.
Bills quarterback Josh Allen was pressured nearly every drop back. He had a very rough day with three turnovers in just 14 touches. Allen finished 31 of 47 for 264 yards, zero touchdowns and two interceptions with one lost fumble.
The Bills shot themselves in the foot numerous times during the game, and even though they had third down troubles, the defense did their job in the end -- only allowing 9 points to the Jaguars.
The officiating was another hot-button topic. The referees seemed to call anything and everything, with 20 total penalties and 12 of them on the Bills. They called unsportsmanlike conduct penalties on the wrong team initially during the Jaguars first series, and called out wrong numbers multiple times as well.
The loss might be head coach Sean McDermott's worst loss as Bills head coach, just because of how brutal it was against a 1-6 team that was seemingly in shambles.
The Bills are now 5-3 and serious work will need to be done to earn the number one seed in the AFC. As of now, the Bills are definitely not the frontrunner for it and they have shown that they cannot sleepwalk against inferior opponents on paper.
The Bills play at the New York Jets next Sunday at 1 pm.
22 Famous Buffalo Sports Phrases Every Die-Hard Bills and Sabres Fan Knows
Being a sports fan in Buffalo is sometimes like knowing a different language. Here are 22 of our favorite Buffalo sports phrases you already know if you're a huge fan! And if you're new here, here's how to catch up.
15 Things You Should Never Do at a Bills Home Game
Things that are a no-no to do at a Buffalo Bills home game.
The Top 40 Pizza Places in Western New York
The best pizza spots in Buffalo!