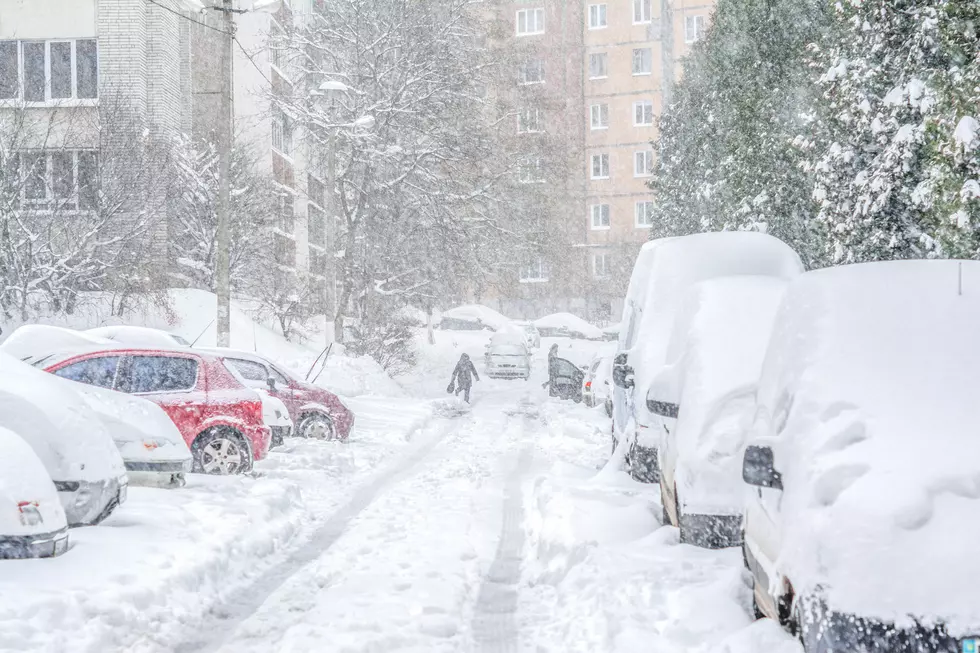 Major Lake Effect Snow Coming This Week for New York State
Tainar
Two weeks ago, we saw a very active weather forecast with heavy lake effect snow off Lak Erie and Lake Ontario and that's an understatement.
In what was a historic lake effect snowstorm, anywhere from 3-6 feet of snow was dumped on portions of Western New York, from South Buffalo to Hamburg and Angola. Off Lake Ontario, another couple feet of snow was measured in what was a very chaotic few days for residents.
This week should be quiet for the most part but Wednesday and Thursday features more heavy lake effect snow for some residents; and a whole lot of rain and wind for most everyone.
The National Weather Service has issued a Winter Storm Watch for the Eastern Lake Ontario Region, which will last from Wednesday evening through Thursday afternoon.
Anywhere from 8-15 inches of heavy, lake effect snow could fall.
As for Western New York, there should be mostly rain showers but lake effect snow will likely set up well south of the Buffalo metro. Accumulations shouldn't be too bad but the winds will be something to worry about, with gusts up to 45-50 mph. Power outages are possible.
The good news is that things quiet down Friday and Saturday, but it will be a not-so pleasant weather day for both Wednesday and Thursday.
There's some early models that suggest we will be in a cold and snow patters in the middle of December, which could set us up for the potential for a white Christmas.
Hopefully, that does happen after the blast of winter we have gotten before Thanksgiving and now, just after it.
77" In 48 Hours - A Look At WNY's Record Breaking Lake Effect Snowstorm
The wet and heavy lake effect snowstorm pelted the area, making traveling impossible. Flights were canceled at Buffalo-Niagara Airport, causing headaches for travelers heading into the Thanksgiving holiday week. Driving bans are in effect in multiple WNY counties, making it illegal for employers to require their workers to commute.
Here's some snapshots of what it looks like on the ground:
Here Are the 10 Snowiest Places in Upstate New York!
This list shows the Top Ten Snowiest Communities in New York State. Some of the numbers these places put up are incredible! The regions stick mainly to the perennially snowiest places we are familiar with such as the North Country, Adirondacks, Western New York, and the Tug Hill Plateau.
There are several online places that list the "snowiest places in New York State." Surprisingly, they all have different rankings and all use different data. So we decided to use the
New York State Ski Blog
as our source. Thousands of skiers rely on this site for accurate weather conditions around the state. So we did too.
FYI...since the winter of 2022 is definitely not over these statistics are for last year. We have no doubt that the rankings will change next year. I mean, have you seen the photos coming out of western New York recently? WOW!
Ten Top Snow Tubing Places in Upstate New York
Back in the day, the closest we came to snow tubing was hopping on a bent and dinged silver metal "saucer" and then throwing ourselves hurtling down a snowy (and rocky) hill. It was fun, but....ouch!
Today's snow tubers have it made. Groomed snow lanes and conveyor lifts to catch a ride back to the top of the hill. And no rocks! All of this has made snow tubing in Upstate New York one of the fastest-growing winter activities for families of all ages.
While keeping in mind that almost every ski resort in the state now offers snow tubing, here are ten you really should check out.
So, throw that old saucer away and head for the snow tube trails!