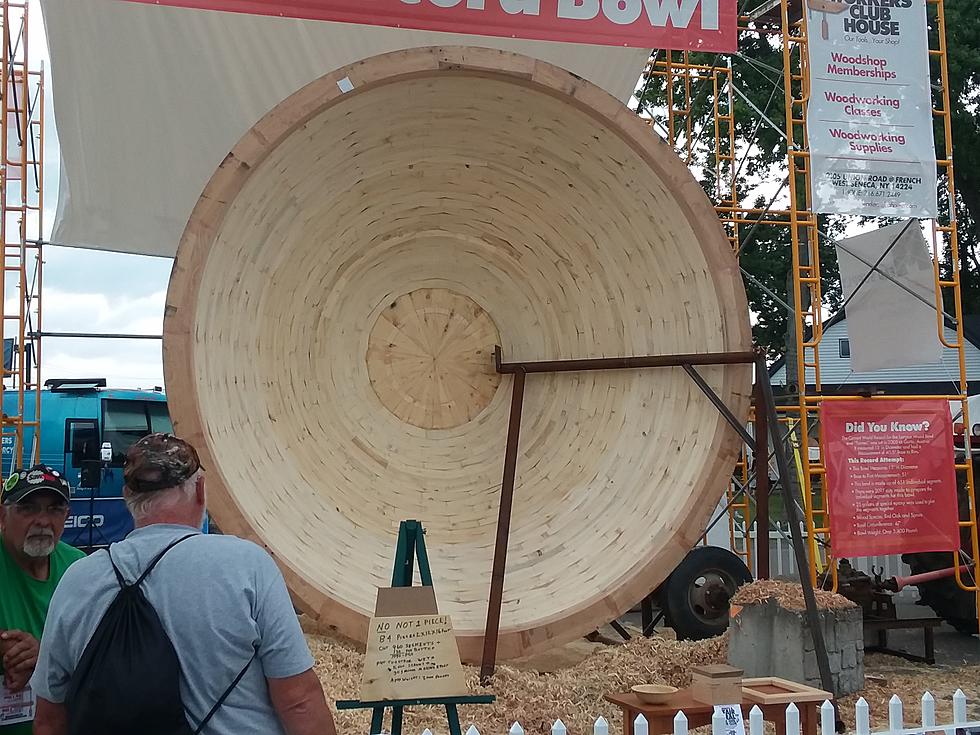 World's Largest Wooden Bowl Is Complete at Erie County Fair
Dale Mussen photo
As the 179th Erie County Fair drew to a close on Sunday the Woodworkers Clubhouse put the finishing touches on the World's Largest Wooden Bowl.  Thru the 12-day duration of the fair, members of the Woodworkers Clubhouse used a giant lathe to smooth the sides of the bowl to qualify it for the World Record.
The bowl measures 15-feet across, 4-feet deep and has a rim circumference of 47-feet.  It's made up of 724 individual pieces of red oak and spruce, drilled and glued together with 25 gallons of special epoxy.  2097 cuts were needed to shape the various pieces.
The World Record Bowl surpasses the previous record holder; a 13-foot bowl built in 2005 in Gurtis, Austria.
The bowl will remain at the Erie County Fair and will be displayed during the Festival of Lights beginning in November.
The Woodworkers Club in West Seneca is open to the public and offers classes for all levels of woodworking levels.  It's a fully equipped woodshop offering the finest in hardwood lumber.