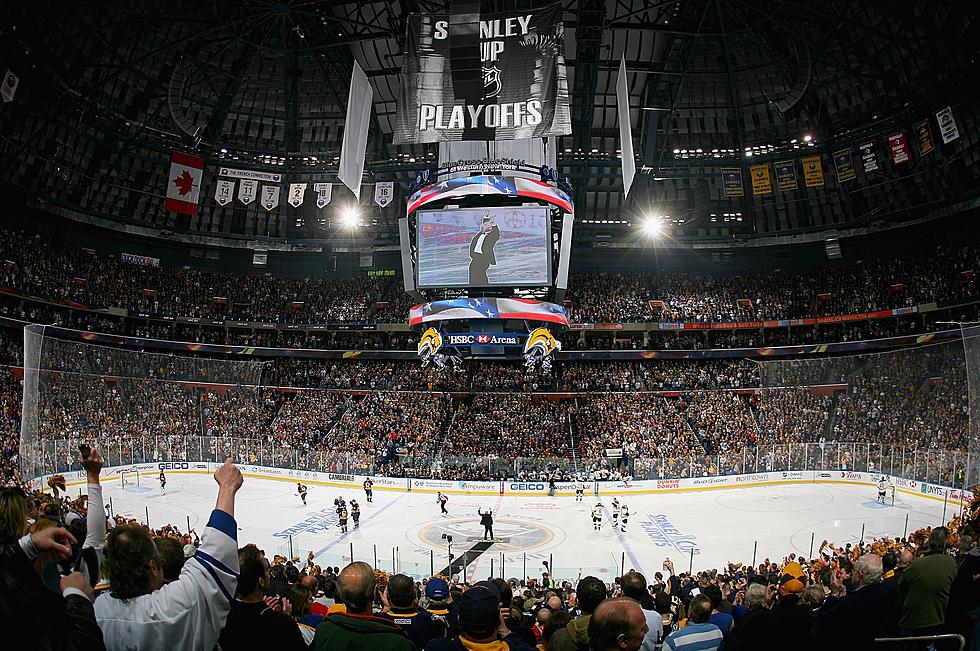 24 Years Ago The Jumbotron Crashed in Buffalo
Getty Images
It was 24 years ago this week in 1996, the brand new $4M Jumbotron scoreboard crashed to the ice at the then-named Marine Midland Arena.
"A cable loosened or snapped on the gigantic board as it was being lowered, sending the entire mass crashing to the ice below and postponing the game Saturday night between the Buffalo Sabres and the Boston Bruins," reported the Associated Press.
The new home for the Buffalo Sabres and countless events-to-come still had that new-arena smell the day the Jumbotron fell. The new venue has only been open for a few weeks before the accident.
"On Nov. 16, 1996, shortly after the Sabres and the Boston Bruins finished their morning skate in preparation for their game that evening, the 20-ton Jumbotron scoreboard hanging over the playing surface crashed at center ice without apparent cause or explanation as crews did routine maintenance."
The Jumbotron's manufacturer, Daktronics, had just inspected the system a week before. By sheer luck of timing, no one was on the ice when the crash occurred. Had that evening's Bruins matchup been an afternoon game, the outcome would have been gravely different.
For anyone who's bought a brand new iPhone and cracked the screen the first day, you can relate. I once had someone rear end me at a red light the day I picked up my new car, I get the collective "noooooooooo" the Sabres organization must have uttered in unison, over and over again that day.
The massive Jumbotron -- top technology for its time -- came with a hefty $4M price tag.
But without the accident, we would never have one of the Buffalo News' most clever front page headlines: "Jumbletron."
Sabres Jerseys Ranked