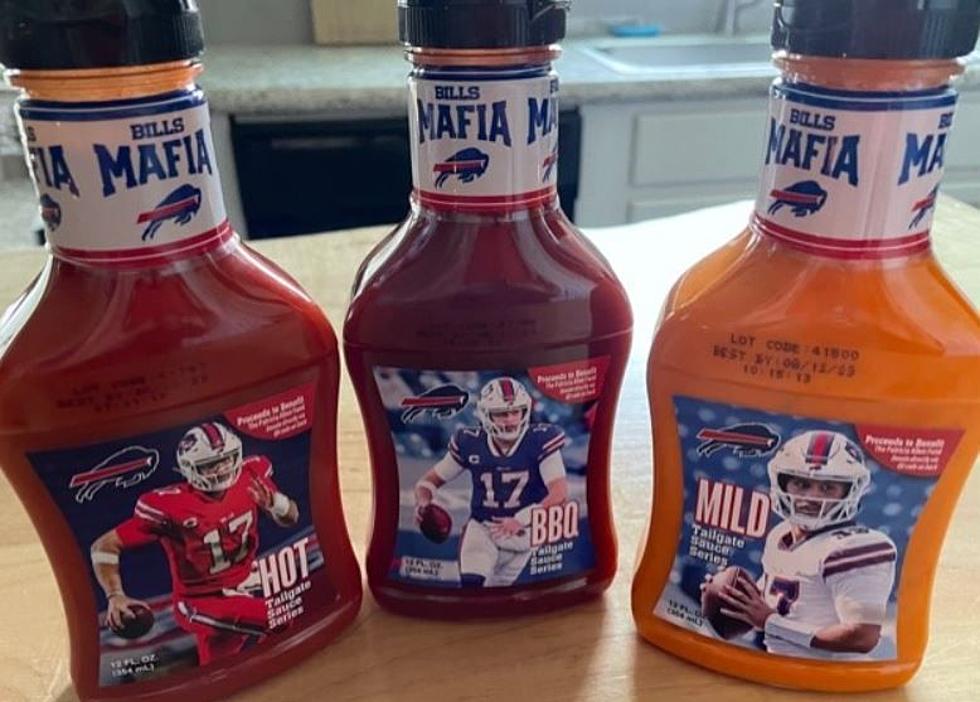 Bills Mafia Tailgate Sauce Now Available In Western New York
Photo Credit: Dave Fields
Your tailgate will never be the same as Bills Mafia Sauce is now available across Western New York.
Last week the Buffalo Bills announced that they have teamed up with Wegman's to release three different flavors of Bills Mafia wing sauce that features Josh Allen on the label.
The sauces come in Hot, Mild, and BBQ. You can get the sauces at area Wegmans' while supplies last and proceeds from the sauce will be donated to the Patricia Allen Foundation which directly supports Oishei's Children Hosptial's pediatric care.
That part of the Hosptial wing was named after Josh Allen's grandmother after Bills Mafia fans donated over $1 million dollars in her honor after Josh played and won the game against Seattle after her passing.
The Patricia Allen Foundation continues to support the hospital as fans continue to donate after every game.
The sauces can be used on a variety of food and of course, are perfect for wings at any Bills Mafia tailgate.
As soon as I saw the sauces were available I headed over the Wegman's on Mckinley Parkway to pick up a bottle of each flavor. My brother Mark lives in Charlotte and makes his own wings every gameday so now he can support a great cause, have amazing wings, and be part of the Bills Mafia while being over 300 miles away.
The Sauces are available at Wegman's across Buffalo, Rochester, and Pennsylvania. They retail for just under $4 a bottle and when I stopped in over the weekend they had plenty in stock!
Bills Mafia Tailgate Sauces
There are now three Bills Mafia Tailgate sauces available for you this football season.
Western New Yorkers Favorite Wing Sauce Besides Hot, Medium, Or Mild
Thinking about going on a wing adventure check out some of the outside-the-box wing sauces.
Top Rated Buffalo Bills Players In Madden 22
Here are the top-rated Buffalo Bills players in this year's version of Madden football.