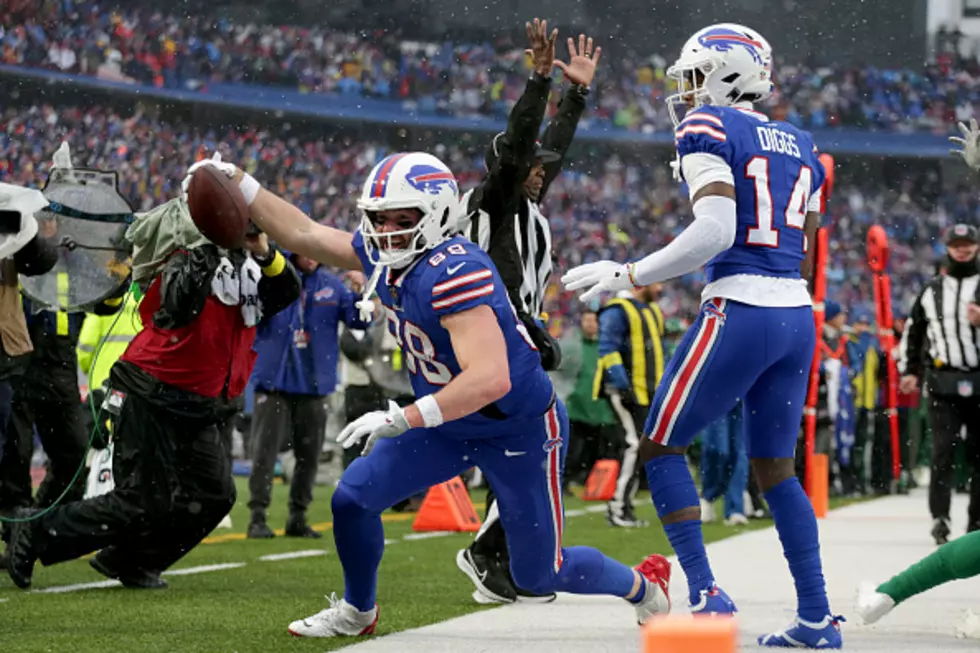 Here's How the Bills Can Clinch a Playoff Spot This Weekend
Getty Images
It really does feel like the Buffalo Bills have this habit of having a mid-season lull the last two seasons; where the offense doesn't look like itself. That's happening this season, but luckily, the Bills have still been able to string together four straight wins.
They won an ugly game this past Sunday against the New York Jets, by a score of 20-12. The Bills could have easily lost against the Detroit Lions on Thanksgiving and played a bad first half against the Cleveland Browns the week prior.
Despite all of that, Buffalo is 10-3 and not only holds first place in the AFC East, but also the number one seed in the AFC.
The only team who has clinched a playoff spot already is the Philadelphia Eagles, who clinched a spot with a win last Sunday against the New York Giants.
The Bills can also clinch a playoff spot this weekend.
The easiest way the Bills clinch a playoff spot for a fourth straight season is with a win over the Miami Dolphins at Highmark Stadium this Saturday.
The Bills can also clinch a playoff spot if they tie the Dolphins on Saturday night, which is highly unlikely but with a lake effect snow band over the stadium, a tie is at least a little more reasonable than usual.
The Bills would have to tie and either have a loss by the Los Angeles Chargers; or a tie and a loss by the New York Jets and the New England Patriots; or a tie and a loss by the Jets, Patriots and a Chargers tie.
If the Bills beat the Dolphins on Saturday, they won't officially have the AFC East clinched, but they would be as close as you can possibly be to mathematically clinching as you can get.
Buffalo would have a three-game lead on Miami with just three games remaining.
If the Dolphins win in Orchard Park, there's only a one-game lead by the Bills and it's officially a race for the division title.
Complete List Of Buffalo Bills Available On Cameo
16 Buffalo Bills With Some Of The Best And Worst Nicknames
25 Ways To Annoy A Western New Yorker In 5 Words Or Less