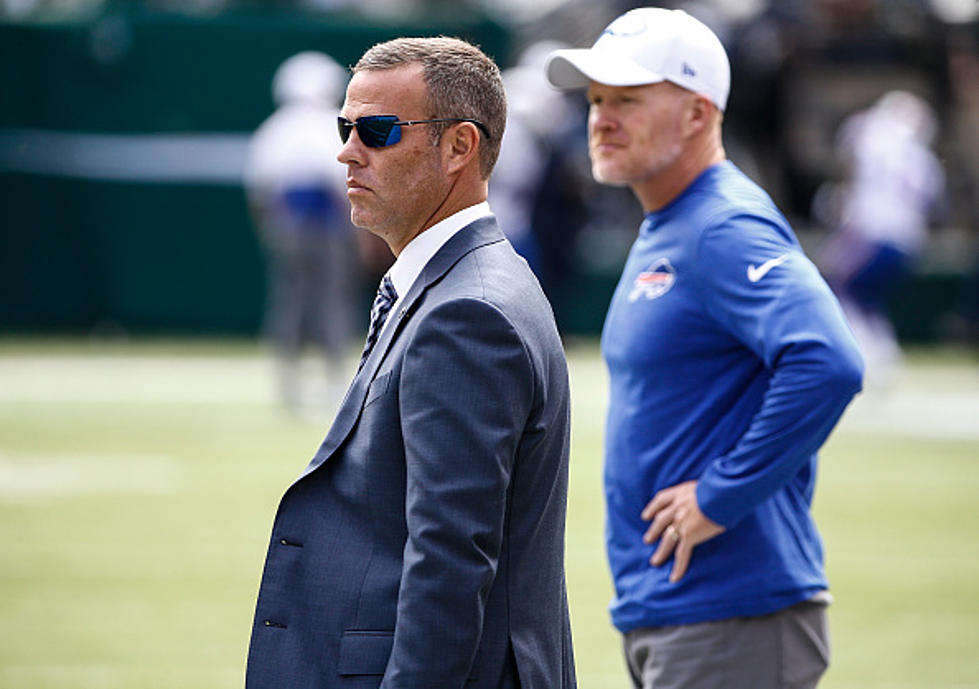 Brandon Beane Hints at the Bills Trading Out of the First Round
Getty Images
The 2023 NFL Draft is only nine days away.
The first round will be held on Thursday, April 27th at 8 pm EST. Rounds two and three will be held on Friday and rounds four through seven on Saturday.
The Bills hold the 27th overall pick and that means that there is still a lot of uncertainty on what will transpire before Buffalo is on the clock.
Bills general manager Brandon Beane spoke with the Buffalo media on Tuesday morning, talking mostly about the draft and what to look forward to next weekend.
Beane's always been one of the most transparent general managers in sports and that was true in this press conference. \
Beane was asked at one point about trading up vs. trading back in the first round, which would likely mean trading out of the first round entirely. Beane actually gave insight on the odds the Bills trade down vs. trading up.
"If I was in Las Vegas and had to bet, I'd say we're more likely to move back...but then again, you're talking to a guy that gets antsy sometimes and goes up," said Beane.
This goes in line with the fact that earlier in the press conference, Beane admitted that they don't have a ton of first round grades in this year's draft class...
Every draft, teams compile a list of their best available prospects but they assign round grades to them. So a certain group a players could have a first round grade, while many others have a round two or three grade.
Don't be surprised if the Bills trade back, especially considering they only have six total picks.
16 Buffalo Bills With Some Of The Best And Worst Nicknames
16 Buffalo Bills With Some Of The Best And Worst Nicknames
22 Famous Buffalo Sports Phrases Every Die-Hard Bills and Sabres Fan Knows
Being a sports fan in Buffalo is sometimes like knowing a different language. Here are 22 of our favorite Buffalo sports phrases you already know if you're a huge fan! And if you're new here, here's how to catch up.