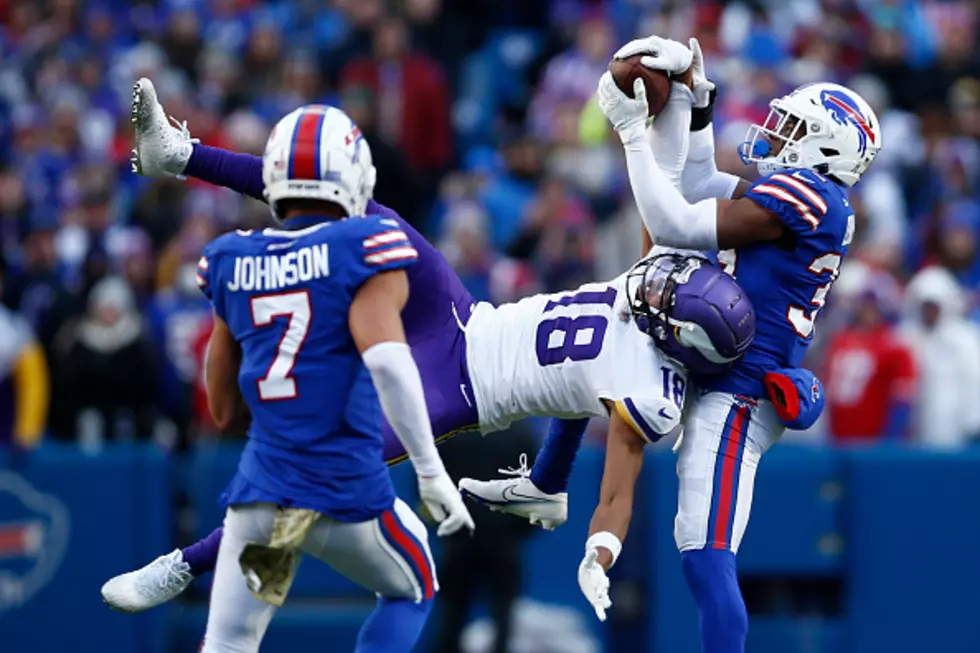 The Buffalo Bills Blow The NFL's Best Game of the Season
Getty Images
The Buffalo Bills are now 6-3 on the 2022 NFL season, after the team blew a 17-point lead against the Minnesota Vikings, losing 33-30 in overtime.
The Bills had their ups and down the entire game but it was their inability to make plays when they needed it the most against one of the NFL's best offenses, as well as making mistakes on offense and not capitalizing on downs they desperately needed.
The end of the regulation has deemed it by many NFL fans as the game of the season, as it appeared both teams had just about won the game multiple times.
The Bills stopped the Vikings on what was an amazing fourth-down from the half-yard-line. That Minnesota drive was kept alive by what is probably the greatest NFL catch we've seen in at least a few years from Justin Jefferson.
Unfortuntaley for the Bills, quarterback Josh Allen fumbled the snap and the Vikings recovered inside the Bills end zone for a go-ahead touchdown. The Vikings went ahead 30-27.
Then the Bills drove all the way inside the Vikings 10-yard-line and kicked the game-tying field, which sent the matchup into overtime.
The Bills defense continued to let up big plays to Jefferson, but they held once again to only allow a field goal.
What's incredible is the Bills put themselves into a situation where they were in position to win the game, and then Allen threw by far his most costly interception of the season. Allen's pick to Patrick Peterson sealed the game and a Bills loss.
What the Bills did today was unacceptable. They allowed Minnesota back into the game and that 4th and 18 pass to Jefferson, while an absolutely incredible catch, cannot happen. It shouldn't ever happen.
Allen helped lose the Bills this game, as he did last week. He's a fantastic quarterback but his has got to be better for the Bills to advance in the postseason, let alone be the number one seed, which fans have said for months they have wanted.
The Bills next play host to the Cleveland Browns at Highmark Stadium next Sunday at 1 pm.
That's a must-win game. The Bills are now behind both the Miami Dolphins and Kansas City Chiefs in the AFC.
15 Things You Should Never Do at a Bills Home Game
Things that are a no-no to do at a Buffalo Bills home game.