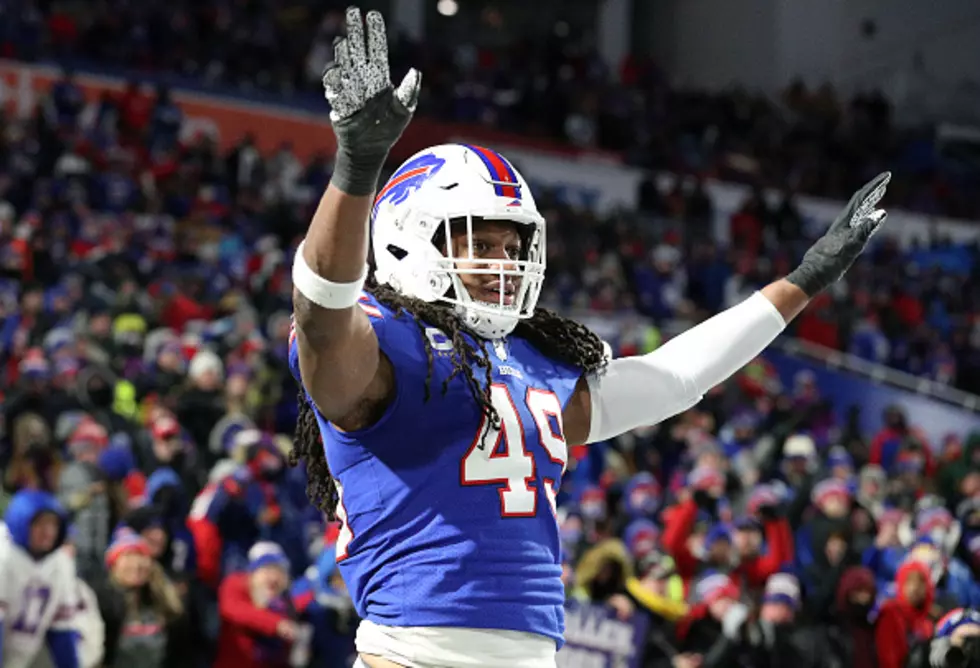 Buffalo Bills Players Who Could Be Gone Next Season
Getty Images
The Buffalo Bills are the favorites to win the Super Bowl heading into the 2022 season and it's because of the players that general manager Brandon Beane has brought into the fold since 2017.
The Bills have been one of the best teams since 2019 because they have hit on most draft picks, as well as landing key free agents.
Jordan Poyer and Micah Hyde might be the best safety tandem in the NFL and both were considered average safeties before signing with the Bills. Now, they're two of the best in the league.
The Bills are great, which creates a good problem to have...trying to keep your players.
Buffalo has given huge contracts to Josh Allen, Stefon Diggs, Von Miller, Tre'Davious White and to a lesser extent, Matt Milano. Dion Dawkins is also on the books for a lofty price.
You may have heard about the contract situation with Poyer.
The safety has not attended OTA's and we will see for sure if he does attend mandatory minicamp next week. He recently hired a new agent, Drew Rosenhaus; and he has one year remaining on his current contract.
The Bills will have very tough decisions to make, not just with Poyer, but other players in 2023 and 2024.
According to Spotrac, the Bills have a projected cap space of -$18.5 million in March of 2023.
That means Brandon Beane will need to do some reworking on contracts, as well as letting players hit free agency.
Jordan Poyer, Dawson Knox, Tremaine Edmunds and Devin Singletary are all slated to be free agents in 2023. Other players will hit the open market in 2024, such as Ed Oliver.
I don't see any way that Edmunds is back in Buffalo in 2023, and the drafting of Terrel Bernard might be an indication of that. Poyer will be tough to keep as well, but I think the Bills place a bigger priority on him.
Singletary will likely be gone, since Beane usually does not give running backs second contracts and that leaves Knox, who in my opinion, needs to be extended by the Bills sooner rather than later; the same goes for Oliver at defensive tackle.
The Bills can always restructure contracts but at some point, tough decisions do need to be made. Bills fans should be prepared to see a couple of starters leave the team next year.
Bills Players Who Could Be Surprise Training Camp Cuts
Here are five players who could be "surprise" training camp releases in 2022.
Buffalo Bills 2022 Week by Week Schedule
LOOK: Things from the year you were born that don't exist anymore
The iconic (and at times silly) toys, technologies, and electronics have been usurped since their grand entrance, either by advances in technology or breakthroughs in common sense.
See how many things on this list
trigger childhood memories—and which ones were here and gone so fast you missed them entirely.