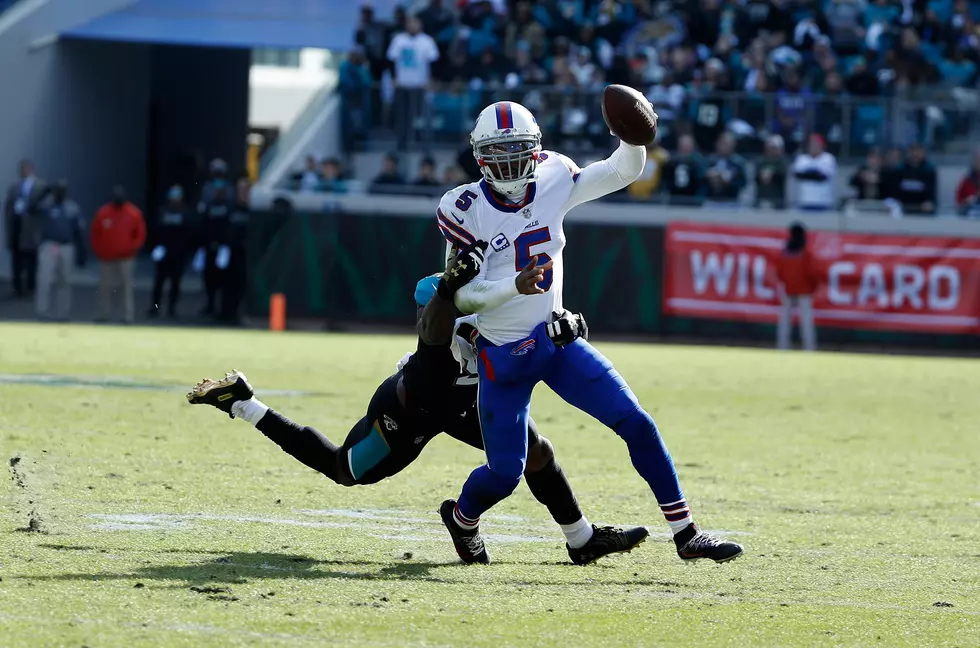 Buffalo Goes 0 for 2 On A Tough Sports Sunday
Tyrod Taylor was knocked out of the wild card game with Jacksonville with a concussion (Getty Images}
It was a tough day for Buffalo sports fans as both the Buffalo Bills and Buffalo Sabres both played games at the same time and both teams lost.  For the Sabres; they're just a lost cause - pathetic in every way and we can only be thankful that the Bills were playing a far more important game.
The Sabres fell to the Philadelphia Flyers 4-1 for their fourth straight loss and sixth in the last seven.  The Sabres are a mess and hardly worth the time, but a different story for the Buffalo Bills.
The Bills playing in their first playoff game in 18 years took the early lead, but despite leading in time of possession their offense just couldn't get the job done.  Stephen Hauschka's second quarter field goal was all they could manage in a 10-3 loss to the Jacksonville Jaguars.
Give the defense credit for a solid effort for holding the Jaguars to 230 total yards, but they just didn't have an answer for the running of quarterback Blake Bortles.  He ran 10 times for 88 yards, a number of them for key first downs.
As well as the Bills defense played, the Jaguars were better coming up with a pair of interceptions and forcing a number of incompletions.  Tyrod Taylor was only 17 of 37 for 134 yards in what might have been his final game as a Bills quarterback.  Taylor brings a lot of excitement to the game, but his whole body of work shows he just doesn't seem to be able to get the job done.
He took a number of hard hits to the head, the last one put him out of the game with a key fourth down coming up with under two minutes to play.  Nathan Peterman came in and threw a pass for the first down conversion, but a moment later he was intercepted to end the Bills hopes.  After the game Taylor was diagnosed with a concussion.
A disappointing loss, but a pretty satisfying season in which most people thought the Bills would win four games at most.  With all the draft picks they have in their pocket this spring and some improvements to the lineup Bills fans have a lot to look forward to in 2018.