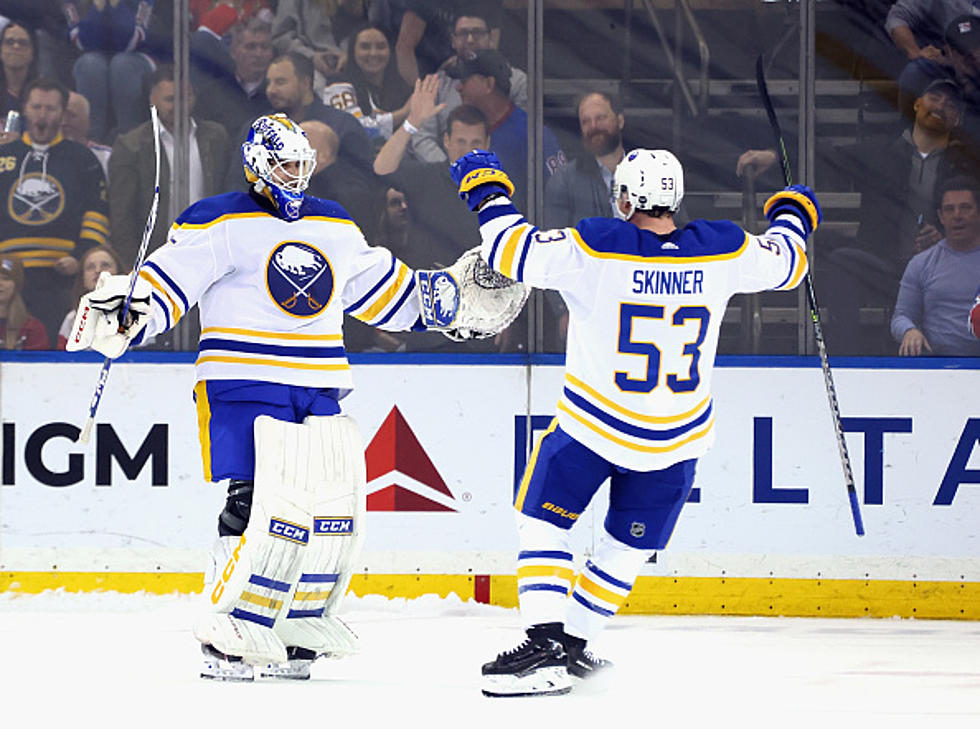 Here's What Has to Happen for the Sabres to Make the Playoffs
Getty Images
It's April 11th and the Buffalo Sabres are still mathematically alive for the Eastern Conference playoffs, which is the latest the Sabres have been alive for a postseason berth since 2011 (the last time they made the playoffs).
The Sabres won against the high-flying New York Rangers on Monday night, 3-2 in a shootout. After taking a 1-0 lead, the Sabres tied the game 2-2 with a Casey Mittelstadt goal in the third period, before rookie goaltending sensation Devon Levi stood on his head in the shootout to give Buffalo the victory.
The Sabres sit at 87 points with three games remaining. They're four points back of the New York Islanders (last wild card spot) and five points back of the Florida Panthers (first wild card spot).
The good news, and why Buffalo is alive, is the Panthers and Islanders only have one game remaining. The Pittsburgh Penguins sit at 90 points with two games left. If they win out, they're in and the Islanders are out.
What needs to happen for the Sabres to make it?
If Buffalo wins its final three games, which starts tonight against the New Jersey Devils, there are two scenarios in which they make the playoffs.
The first is having the Islanders lose in regulation or overtime against the Montreal Canadiens, along with having the Penguins drop two points against the Chicago Blackhawks and Columbus Blue Jackets.
That last part is a tall task, since Pittsburgh plays two horrible teams in Chicago and Columbus.
The second scenario is the Florida Panthers loses its final game to the Carolina Hurricanes in regulation (very possible) and the Penguins take two points or less in its final two games.
There is a way for Buffalo to make the playoffs if they lose in OT or a shootout in one of these last three games, but it requires the Islanders to lose in regulation and the Penguins to take no more than one point in their final two games.
Needless to say, the Sabres have to win out to have a realistic shot, which is still a longshot, but it starts tonight in New Jersey.
Buffalo Sabres Goalie Masks
Take a look at some amazing Goalie Masks in Buffalo Sabres history.
Top 10 Most Underrated Buffalo Sabres of All-Time
22 Famous Buffalo Sports Phrases Every Die-Hard Bills and Sabres Fan Knows
Being a sports fan in Buffalo is sometimes like knowing a different language. Here are 22 of our favorite Buffalo sports phrases you already know if you're a huge fan! And if you're new here, here's how to catch up.