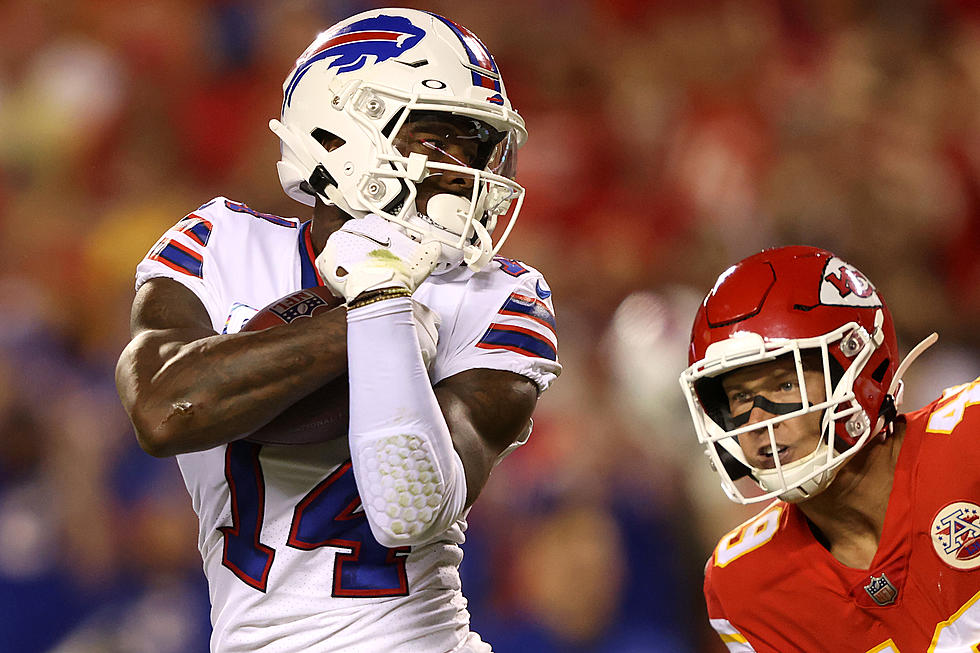 Did You See Stefon Diggs' Sunday Night Football Cleats?
Getty Images
It is safe to say that Stefon Diggs has a Netflix account and when he is not studying game film, he is binge-watching the latest hit show.
Last week, Diggs and his offensive teammates were caught on camera at the tail end of the blowout win over Houston playing a game of red light, green light.
The children's game is on the mind of many people since it was the game that was featured in the first episode of the new Netflix series "Squid Games"
If you haven't seen the series yet. The series is about people who are down on their luck and deep in debt playing a deadly version of children's games. If you win the game you have a shot at winning life-altering money, if you lose, you are eliminated from the game and from your life.
It is one of the Top 10 series trending on Netflix and it seems that Stefon Diggs is a big fan. Besides, playing a round of red light, green light, Diggs came the stars of the series some love with his custom cleats for Sunday Night Football.
Heading into one of the biggest games so far this season for the Buffalo Bills, Diggs was rocking hand-crafted "Squid Game" cleats.
It seems the cleats worked well for Diggs and the Buffalo Bills. The Bills went into Kansas City defeated the current AFC Champions 38-20. The Bills are currently 4-1 on the season and in the driver's seat to host an AFC Championship game this season.
Amazing Photos From Bills Big Win Over KC
Check out some highlights from the Bills' big win over the KC Chiefs.
Bills/Texans Photo Recap
Take a look back at the Buffalo Bills 40-0 win over the Houston Texans
Photo Recap Of The Bills/Washington Game
Take a look at some of the highlights from the Bills' 43-21 win over Washington.