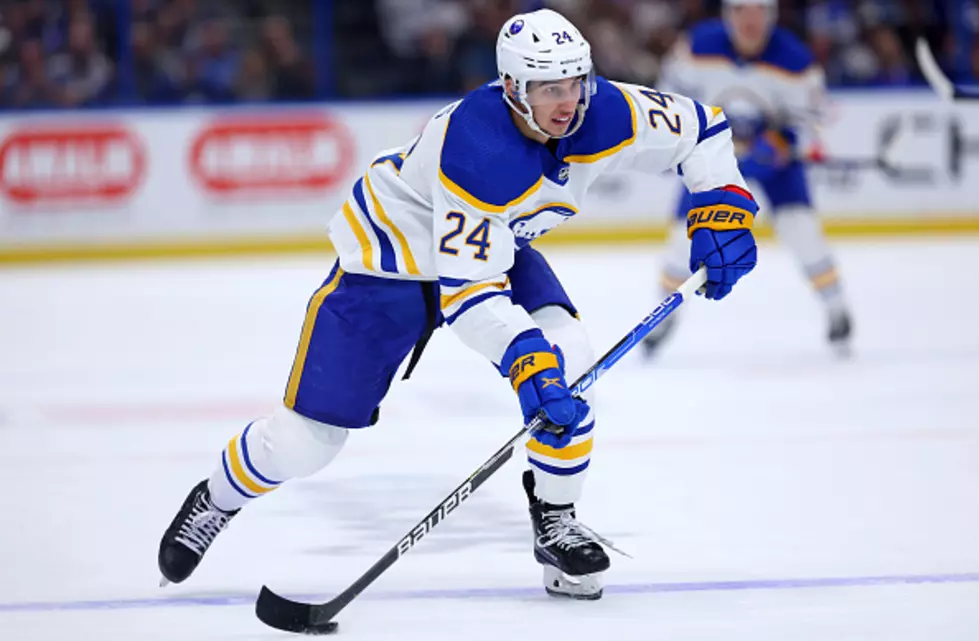 Sabres Sign Dylan Cozens to Massive Contract Extension
Getty Images
The Buffalo Sabres will be back at work when they take on the Calgary Flames this Saturday at KeyBank Center.
The Sabres are currently on a 10-day break, due to the All-Star game this past weekend and the league not scheduling a game until the following weekend.
Buffalo is currently in a tight playoff chase, likely the two wild card positions; battling the Washington Capitals and Pittsburgh Penguins.
It's logical to believe general manager Kevyn Adams will be a buyer at the trade deadline, which is on March 3rd, but before the Sabres can trade for outside players, they decided to lock up one of their own on Tuesday.
The Sabres announced they have signed center Dylan Cozens to a new 7-year, $49.7 million contract extension.
Cozens was the Sabres first round (7th overall) pick in the 2019 NHL Entry Draft.
He had a slow start for point production in his first season but picked up the pace last year, his first full year in Buffalo and is having a breakthrough season in 2022-2023.
Cozens is on pace for 30 goals and over 75 points this season. He also plays center and has become a valuable two-way player, who has a potential captaincy in his future.
The Sabres are doing this right. Adams signed Tage Thompson to an almost identical contract before this season, which locks both up in Buffalo through the 2029-2030 season.
Buffalo also signed defenseman Matias Samuelsson to a 7-year contract extension last year and Rasmus Dahlin is signed through 2023-2024, with an annual salary of $5.8 million this season and $7 million next season. Chances are, Dahlin gets extended as well.
The Sabres are doing this right. Locking in Thompson, Cozens and Samuelsson now means they will be here at a discount for their production, once we get into the next several years, and it shows a commitment to the roster that they value their talent.
Top 10 Most Underrated Buffalo Sabres of All-Time
Buffalo Sabres Goalie Masks
Take a look at some amazing Goalie Masks in Buffalo Sabres history.
22 Famous Buffalo Sports Phrases Every Die-Hard Bills and Sabres Fan Knows
Being a sports fan in Buffalo is sometimes like knowing a different language. Here are 22 of our favorite Buffalo sports phrases you already know if you're a huge fan! And if you're new here, here's how to catch up.