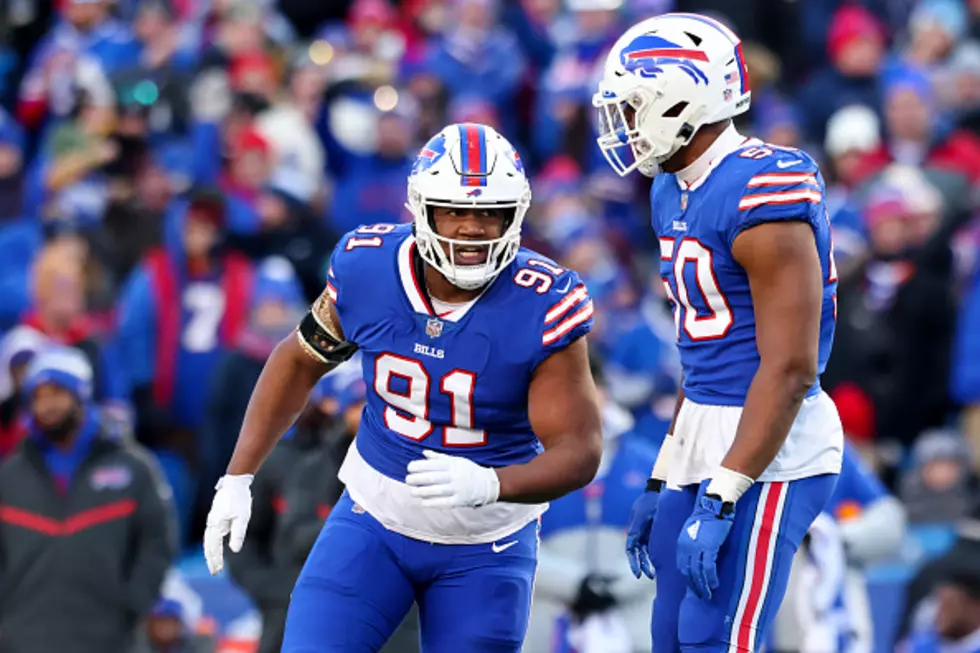 Could the Buffalo Bills Trade This Star Player This Spring?
Getty Images
The Buffalo Bills staff is focusing on both free agency and the NFL Draft, which will take place during the last Thursday-Saturday of April.
The NFL Scouting Combine is at the end of February, while the start of free agency will begin on March 15th at 10 am, EST. That is when all expiring contracts do in fact expire, and those players can start negotiating with other teams.
The Bills have a bit of a dilemma this off-season. Spotrac puts them around $20 million over the salary cap for 2023, which means they likely won't be able to re-sign many of their pending free agents, which includes Jordan Poyer, Tremaine Edmunds and Devin Singletary.
General manager Brandon Beane will likely have to restructure a few existing contracts, which may include Josh Allen, Von Miller and Matt Milano.
The Bills need to upgrade at certain positions such as wide receiver and offensive line, along with worrying about safety. Poyer is a free agent and Micah Hyde is north of 30 years old and coming off neck surgery.
Could the Bills possibly have cap casualties? They could release someone like Nyheim Hines and over $4 million (zero dead cap hit), but what about a trade?
The Bills opted into the fifth-year option for Ed Oliver's rookie contract, which means he's with the Bills through the 2023 season, before becoming a free agent.
Spotrac puts his market value at $10.5 million per season, so if you're signing him to an extension for let's say, five years, you're looking at a cap hit over $10 million and over $50 million in total...at least.
The Bills could decide to simply allocate money; prioritizing WR and OL help, while trading away Ed Oliver for draft capital?
Bills Chat Podcast revealed this possibility, which would save the team $10.7 million in cap space this season.
Oliver was a no-show in the playoffs and while he is a good starting player, who is still young, it might be enticing enough to make a move such as this.
Not only would you save $10.7 million, but you would get a draft pick (or two) back and have more draft capital for a rookie deal; plus have more wiggle space to spend the money on other positions.
No matter what, the Bills have to convert base salaries to signing bonuses with certain players, but this trade makes sense...if of course the Bills want to go down that route.
6 Buffalo Bills Greats That Didn't Look Right In A Different Uniform
Unfortunately, sometimes your favorite player leaves your team and when you see them it just looks weird. Here are five former Buffalo Bill greats that just look weird wearing a different team's jersey.
Best Free Agents Signed By The Buffalo Bills
The Buffalo Bills are gearing up for a run at the Super Bowl next season and some big-time free agents are already reaching out to the Bills looking to join the team. Check out some of the best free agents the Bills have signed in the past.
22 Famous Buffalo Sports Phrases Every Die-Hard Bills and Sabres Fan Knows
Being a sports fan in Buffalo is sometimes like knowing a different language. Here are 22 of our favorite Buffalo sports phrases you already know if you're a huge fan! And if you're new here, here's how to catch up.