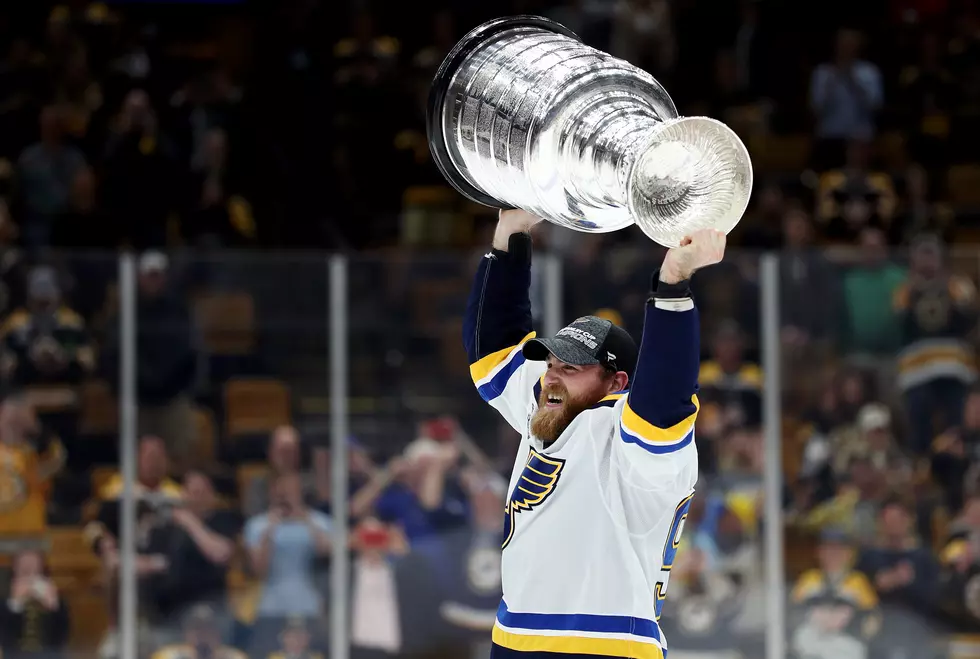 From Worst to First for Ryan O'Reilly
Getty Images
What a difference a year makes.  Last year after the Buffalo Sabres finished dead last in the NHL Ryan O'Reilly sounded like a defeated man who said he had lost his love of the game and like so many others on the team was just satisfied not to make a mistake.  It was obvious he needed a change of scenery and boy did he ever make the most of it.
Ryan O'Reilly is now a Stanley Cup champion after scoring the opening goal in a 4-1 win over the Boston Bruins in Wednesday night's deciding game 7.  He scored in each of the final four games of the series becoming the first player to do that in a final since Wayne Gretzky in 1985.
O'Reilly finished with five goals and eight points in the series and set a St. Louis record with 22 points in the playoffs and for that he was awarded the Conn Smythe Trophy as the Most Valuable Player in the playoffs.
Rookie goaltender Jordan Binnington had to be a close second for the Conn Smythe becoming the first rookie goaltender to win 16 games in the playoffs.  He was the difference in the first period when the Bruins were applying heavy pressure only to be stopped time after time.
Binnington finished with 32 saves and came up short in his bid for a shutout when the Bruins scored with just over two minutes to play.
By winning the Stanley Cup it ends the Blues' 52-year drought of having never won the Stanley Cup.  With the Blues having now won hockey's ultimate prize it leaves the Sabres and the Vancouver Canucks as the two franchises that have gone the longest without ever having won the Cup.  Both teams began play in 1970 meaning they both have gone 49 years without having won.
Of the teams that have won the Cup at least once, it's the Toronto Maple Leafs now that have gone the longest without having won it.  The Leafs last Cup came in 1967, 52 years ago.
So of the teams that have gone the longest without winning a Cup, the Leafs, Sabres and Canucks, which will win it first?  My vote goes to the Leafs.  They're further along in building a championship team, but who knows?
The Blues were last overall in the NHL on January 3rd before turning things around and working their way up the standings and finally a Cup championship.  It can happen for the Sabres if they're willing to work for it.