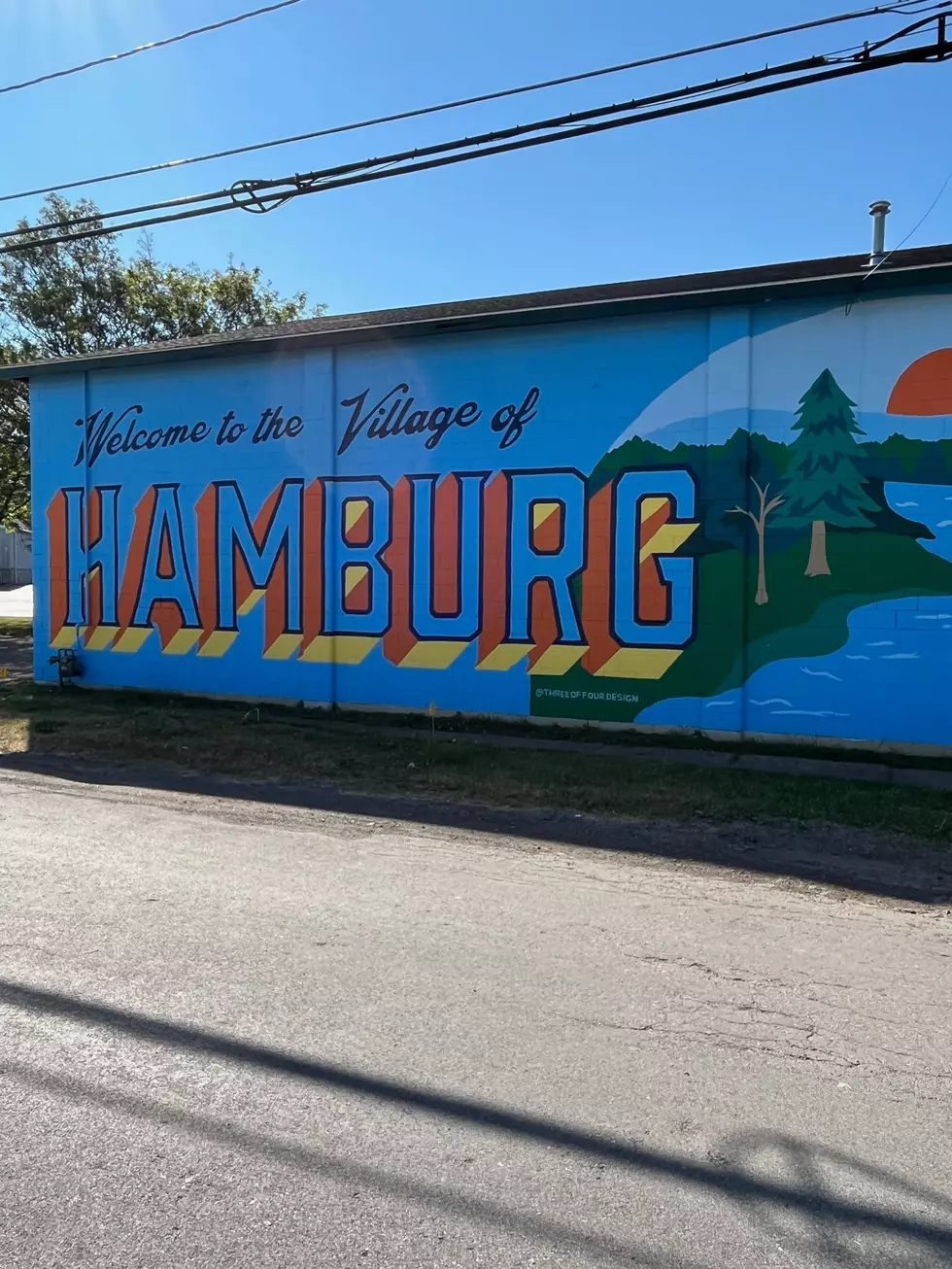 Hamburg Has A Beautiful New Mural [PHOTOS]
Clay Moden
If you drive in to the Village of Hamburg this summer, you will see the colors of Hamburg's newest mural. The large, vibrant work of art greets you as you drive along Lakeview Road.
I was able to grab a few photos of this incredible work when I took our son to a t-ball game this past weekend. I love the colors and if you look closely, you can see the names of various familiar buildings that have been a staple in the Village of Hamburg for decades.
Hamburg's Newest Mural
I watched an artist for a minute and they made it look easy! It was as if the wall was made for this mural that is part of the entrance to Legion Field where thousands of kids and parents arrive to play baseball or softball every summer. Hamburg is one of the fastest growing villages and towns in Western New York and has been in the news recently for the water tower on the other side of the town near the Thruway. There is a push to repaint the water tower to look like a gigantic Hamburger which would be a way to symbolize the history of the hamburger which had it's beginning in Hamburg at the Erie County Fair.
The popular Hamburg Burger Fest is back this year and rounds out a great couple of months this summer in the Southtowns.
BURGERFEST IS COMING UP ON SATURDAY, JULY 16! IT RUNS FROM 11:30 A.M. TO 11 P.M. WE'RE LOCATED IN THE HAMBURG MUNICIPAL PARKING LOT BORDERED BY MAIN STREET AND BUFFALO STREET. ADMISSION TO THE EVENT ITSELF IS FREE. FOOD TICKETS ARE $1 EACH
10 Gorgeous Buffalo-Themed Gifts Your Bridesmaids Will Love
We know that you want to show your bridesmaids how much you appreciate them on your big day, but realize that you might have your hands full with menu planning and seating charts. That's why, to make your life easier, we've gathered these unique gift ideas that your bridal party will adore - all of which you can buy from local Buffalo-area shops.
Super Unique $1 Million Home in Orchard Park
Step inside this very unique $1 million home which
hit the market
in Orchard Park.
5 Things Buffalonians Would Make Illegal If They Could