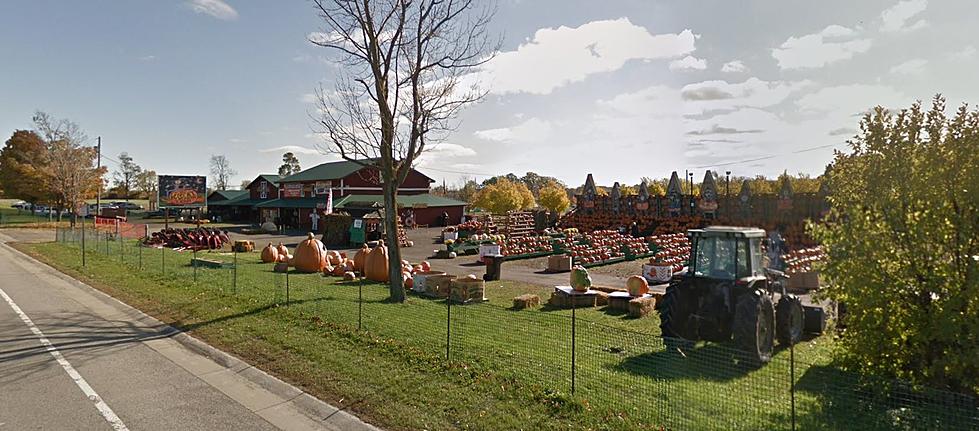 Here Are All The Activities at The Great Pumpkin Farm In Clarence This Fall
Credit: Google Maps
It's officially September and almost like someone flips a switch on the wall, the mood has shifted from summer to fall (even if summer-like weather is still with us for the next two weeks or so).
Many in Western New York and Buffalo are looking forward to another fun year for fall activities and hopefully, much better than it went in 2020 when many things were closed.
The Great Pumpkin Farm in Clarence is back for the 2021 fall season and opening day is set for Saturday, September 18th!
Obviously, you're going to have a massive amount of pumpkins to see, take pictures with, and purchase; along with all the amazing stuff in the bakery, but what about other activities taking place this fall?
According to its website, The Great Pumpkin Farm will welcome back its popular corn maze, which is 5 acres.
You can also take a ride on the zombie, paintball train. That's when you ride a train and shoot targets with a paintball, which sounds amazingly fun.
Other attractions include:
Jumping Pillows (one for kids and one for adults)
Apple Cannons
Boo Barn
Petting Zoo
Shooting Gallery
Haymaze
Face Painting
Children Craft Area
Playground
Cow Train
Pumpkin Cannon
Amusement Rides
For what's going on during the weekends, the Festival Weekends will return and the first weekend will feature dinosaurs in the corn maze! Yes, actual life-size dinosaurs that will be sure to "wow" kids.
The first weekend will have a pumpkin pie eating contest and happy hour bands!
The second weekend will feature zombies in the corn maze!
The third weekend is a special one because it will have the World Pumpkin Weigh-Off! Always a special weekend at The Great Pumpkin Farm. Dinosaurs in the corn maze will be back this weekend as well.
The pumpkin drop and pumpkin Olympics return for the fourth weekend and so much more.
Weekdays are free (except for Columbus Day), while Saturday and Sundays will require a ticket, which you can buy starting September 4th. $12 general admission and $10 for seniors (65 or above).
Can you feel the excitement for the fall season?
25 Things You Need To Do in Buffalo This 2022 Fall Season
The best 25 things to do in Western New York this 2022 fall season.
The 30 Smallest Towns In New York State On The Brink of Ghost Towns?
The 30 smallest towns in New York State reveal amazingly
low population
numbers.
KEEP READING: Here are the best places to retire in America