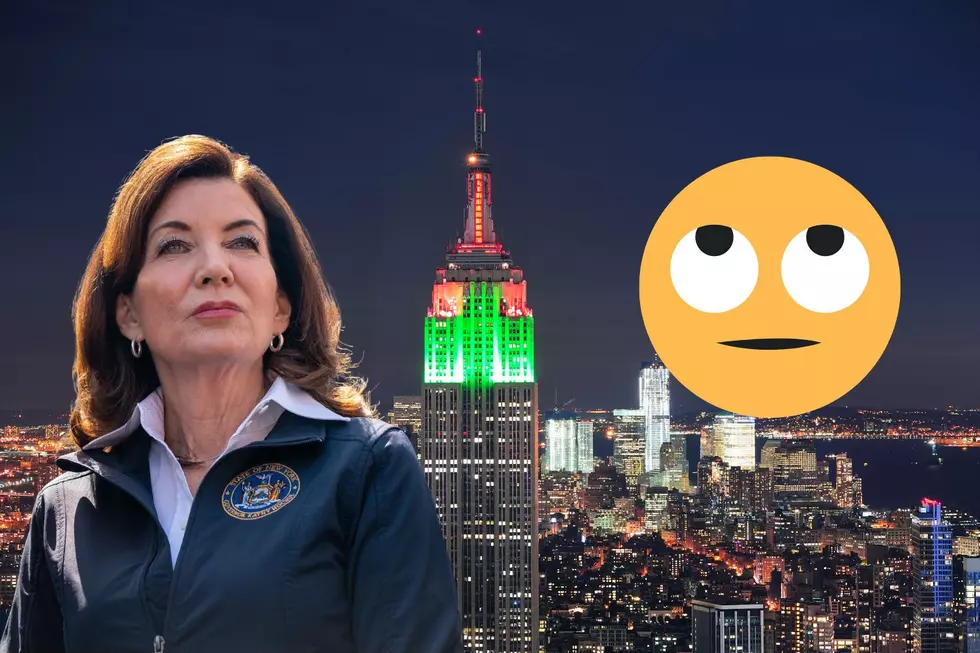 Governor Hochul Annoyed By Empire State Building Tweet
(Getty/Canva)
The Empire State Building did something last night that made a lot of New Yorkers pretty upset - and rightfully so.  But the governor wasn't amused by the response.
Yesterday the NFL held the last two games of the playoffs.  The NFC Championship included a game between the Philadelphia Eagles and the San Francisco 49ers, a game that the Eagles were able to walk away with.  Now, they're headed to the Super Bowl to take on the Kansas City Chiefs.
Here's where it gets confusing.
The Empire State Building (which is a rather famous landmark in New York City) decided to light up the building to cheer on their beloved Philadelphia Eagles.
Wait...what?
Why are they cheering on the Philadelphia Eagles?  Doesn't New York have it's own team?  I mean...we all know they play in New Jersey, but yes, the city of New York claims the New York Jets and the New York Giants.  And the Giants are in the NFC!!  Why would they do this?
Obviously, New Yorkers were livid and started tweeting their disgust.  They started asking if New York lost a bet that they didn't know about.  They asked if maybe they had the colors ready for the Jets (Who are also green and white) but got tired of waiting for them to win a championship.  Must most of all they wanted to know why Governor Kathy Hochul would allow such a thing to happen.
To which she responded:
"To be clear, New York State has no control over how @EmpireStateBldg lights its colors."
She even used the eye roll emoji...she must really be annoyed. That's not something you see every day.
While it does seem like a huge misstep from the Empire State Building to do that, they're only about two hours from Philadelphia.
So...just showing a little support to their neighbors?
14 Landmarks You Should See Before You Die In New York State
There are so many landmarks to stop and spend some time at in New York State. Here are just a few!
65 Obnoxious Banned License Plates In New York State
Here are some of the crude, hilarious, and off-the-wall personalized license plates that were denied in New York state in 2022.
10 Most Dangerous Cities In New York State
Take a look at the 10 most dangerous cities in New York.